The Petra Organization in collaboration with the Guyana Football Coaches Association (GFCA) opened their two day beginners coaching workshop at the Ministry of Education ground on Carifesta Avenue yesterday.
Petra co-director Troy Mendonca during opening remarks stressed the need for the players to be prepared under proper conditions and the need for stakeholders to adopt a more proactive approach and utilise whatever resources are available.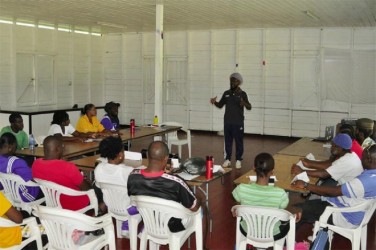 He urged all participants to be very receptive to the seminar even though it is being conducted by a local personnel and said that his organisation intends to spearhead a collaborative effort to address the lack of proper structure within the youth system.
The sessions are being used to educate teachers and coaches who will be responsible for preparing the schools participating in the upcoming Courts Pee Wee Under 11 competition.
The topics to be covered in the two day programme which ends today are the role of the coaches and age related exercise, environment health and safety, practical warm up, practical fun games, nutrition and hydration, injury prevention and treatment and technical development.
Around the Web