A controversial call in the final moment marred Wortmanville/Werk-en-Rust's 80-78 semi-final upset win against Plaisance/Vryhieds Lust when the Trinity Gird Holdings (TGH) Pacesetters Basketball Club Mackeson Inter-ward tourney continued on Sunday at the Cliff Anderson Sports Hall.
With four seconds left on the clock and trailing by two points, a defensive three second in the paint would be called on Wortmanville/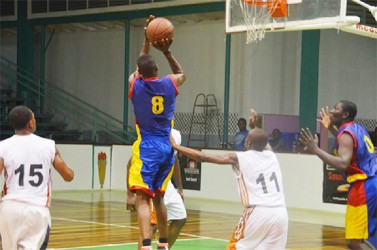 Werk-en-Rust's Joslyn Crawford by the official. However, the remaining one second was allowed to expire as the fixture ended on a sour note.
Michael Turner had a game high 28 points, eight rebounds, one block and five assists in the victory.
He was assisted by Crawford 16 points, eight rebounds, three blocks and one steal, Randy Richardson 16 points, 14 rebounds and Naylon Loncke 10 points, three rebounds, three assists and two steals respectively.
Roy Campbell led the East Coast side with 23 points, 12 rebounds and 2 steals. Ryan Gullen was the next best scorer with 14 points, 18 rebounds, six blocks and one steal while Shelroy Thomas and Enoch Matthews recorded 14 points and 11 points respectively.
The opening period would set the tone for what would prove to be tense and bruising encounter. Highlighted by perimeter shooting, a combined six three pointers were hit as both sides went on the offensive from downtown.
Crawford, who proved to be a dominant figure in the paint, led the Georgetown side as he netted nine points in the period. His efforts would be thwarted by Matthews who anchored the Plaisance/Vryhieds attack with eight points to take them into the lead at 23-22.  A balanced approach in attack would be taken by both sides in the second quarter as the perimeter shooting was replaced by a bruising inside game.
Penetrating the lane despite his small stature, Campbell propelled the East/Coast side's offence in what would be the lowest scoring quarter of the fixture, netting eight points to give his side a five point lead at 44-39.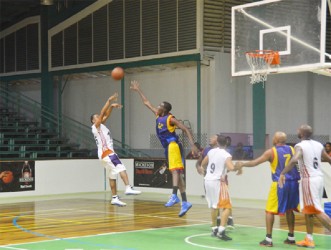 The third stanza would see Campbell explode on the offensive end as he recorded 12 points through his continued assault in the paint.
Netting just nine points in the opening half, Turner would begin to impose his will on proceedings, shouldering the Wortmanville/Werk-en-Rust offence as he netted 12 of his side's 20 points in the period.
Trailing 66-59 going into the fourth, the Georgetown side through dogged defending held the East Coast side to just 12 points while recording a healthy 21 points compliments of a combined 13 points from Turner and Richardson to complete the upset victory.
Leading the final charge with seven points, Turner continued to be a thorn in the side of the East Coast unit. Tied at 76-76 with 47.1 seconds remaining, Turner evaded his marker before finishing a crucial layup in a crowded paint to give his side the lead that they would not relinquish.
In the opening fixture, Albouystown/Charlestown defeated Alberttown/Bourda 62-49. Collis Pluck recorded figures of 21 points and five rebounds while Joe Ifill contributed 12 points, 22 rebounds and two blocks.
Yannick December led the losers with 12 points whilst Kevin Cumberbatch recorded 11 points, four rebounds, three assists and three steals in a losing effort.
The grand tournament final which will be contested in a best of three format will commence on Friday 27th and Saturday 28th at the same venue from 9:30pm while Sunday 29th will be used if necessary.
Around the Web