A classy display of spin bowling by Uzzman Nehad who bagged five wickets  and an all-round performance from Man-of-the-series Mehedi Miraj, bamboozled the West Indies U19 team as Bangladesh wrapped up the seven One Day International Under-19 series 4-3 with a 67-run win yesterday at the Everest Sports Club ground.
The tourists, who lost the first ODI, bounced back to with the next three before the Young West Indies team regained their confidence and managed to claw themselves back into the picture by winning games five and six, setting up what turned out to be an eventful final match.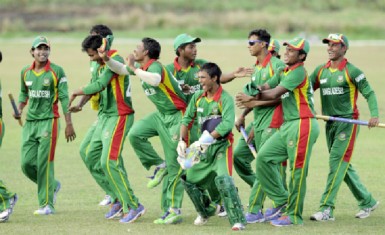 Staged in front of a sold-out Everest crowd which was filled to capacity, West Indies left-arm pacer Jerome Jones picked up a hat-trick earlier in the innings, ending with figures of 5 for 23 including four wickets in one over.
The Bangladesh battery of spinners then created all sorts of problems for the Caribbean side routing them for 110 in 33.5 overs with top scorer, Jeremy Solozano being left stranded on 35. Nehad grabbed 5 for 12, while the skipper and Man-of-the-match awardee, Miraj scored 28 and snared 4 for 25 while Javed Rahuttul 1 for 15.
Bangladesh's batting was once again led by opener Sadman Anik who has been in rich form at the top of the order with notable scores of 49 and 95. Yesterday he made 48 working the opposition bowlers for lots of singles, two's and a pair of boundaries in his knock.
Jashim Uddin (33) and Yasir Rabbi (20) supported with the bat taking their score to 168 all out in 44 overs. Fast-bowler Alzarri Joseph 2 for 48, Fabian Allen 2 for 24 and Ramaal Lewis 1 for 3, were the other wicket-takers for the Caribbean side.
Tagenarine Chanderpaul (5) and Shimron Hetemyer (6) were sent packing early by Miraj, followed shortly by the dismissals of Tristan Coleman (8) and Tarrick Gabriel (0), who fell to the left-arm spin of Nehad.
After opening his account with a six and a four, Nicholas Pooran (10) was trapped LBW by Miraj, who along with his teammates gave the young Trinidadian an animated send off. Allen (0) had his middle stump pegged by Nehad, as the West Indies rapidly sunk to 51 for 6 in the 19th over.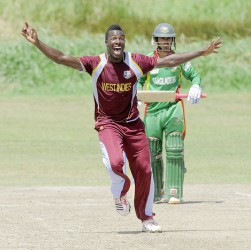 Lewis was then caught for 19 by Rahuttul who took a good catch out in the deep. Then a controversial turn of events saw Gudakesh Motie-Kanahi caught by the first slip fielder Shanto, off a delivery of Miraj which appeared to bounce on the ground before going into his hands. He was however given out for 4 by umpire Colin Alfred.
The innings came to an end when Jones was bowled for nought by Nehad while Joseph, who had his stumps uprooted, who was the last wicket to fall as the West Indies were bowled out with approximately 17 overs remaining.
Earlier in the tourists innings, Opener Joyraj Emon struck four boundaries in his knock before he edged Joseph to wicketkeeper Pooran in the 10th over, leaving the score 43 for 1. Anik continued his innings with new man Jashim Uddin, eventually raising the team's half-century two overs after the fall of the first wicket.
A total of three wickets fell for one run when Uddin was then bowled by Lewis, followed by the double blow of Nazmul Shanto and Mossadek Saikat who respectively departed for nought in successive balls, bowled by Allen who was now staring at a hat-trick.
Allen was then deprived of a possible landmark by Miraj who pushed the hat-trick ball for a single. Anik then missed out on his second half-century of the tournament after being pinned LBW by Jones in the 32nd over.
A cluster of wicket at the back end of the innings saw Jones snaring four wickets in an over, including Yasir Rabbi (20) and his hat-trick victims, Javed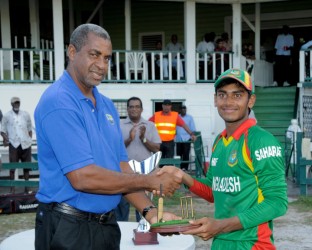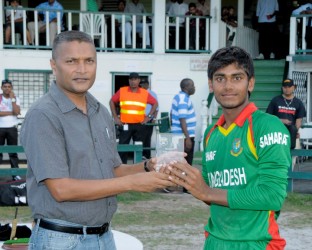 Rahuttul (7), Nehad (0) and Zubair Likhon (0), leaving Abu Rony stranded, yet to come off the mark.
Stabroek Sport caught up with the Coach of the Bangladesh team Richard Mcinnes who said that he was pleased with the outcome of the series and noted that the performance by the boys in England aided them on this tour.
He lauded Anik's performances with the bat and commended the West Indies players on their performances and wished them all the best in the return series. Bangladesh will now prepare to host the West Indies in a return series in December, ahead of the West Indies youth World Cup next year in Dubai.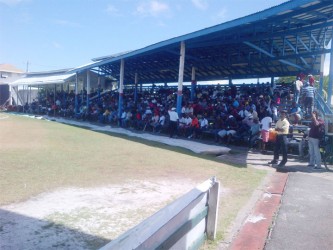 Around the Web