The young duo of Avinda Kishore and Christine Sukhram yesterday walked away with the red jackets and the winner's trophies in the respective male and female categories of the 2013 Digicel two-day Open golf tournament, which concluded yesterday at the Lusignan Golf Course.
Resuming from Saturday, when most of the local and overseas golfers were  hitting their strides, the ladies Flight (0-36) handicap, saw Sukhram the defending champion, retaining her title after ending with a total gross of 156 while registering a net of 136.
The champion outplayed newcomer Shanella Webster (210 gross and 144 net) and Joann Deo (194 gross and 150 net) who were second and third respectively. The fairy-tale of the tournament was that of the 18-year-old Kishore who dethroned four–time champion and elder brother, Avinash Persaud after accumulating the best gross of 151 and a net of 141.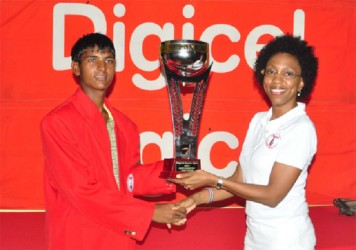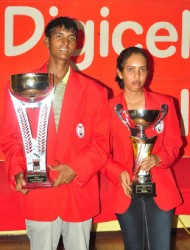 Peter Prashad was second with (153 gross) and (137 net) and former defending champ Avinash, third with (153 gross) and (147 net).
The Second Flight saw the veteran Ray Cummings coming out on top with a gross of 162 and a net of 140, while Lusignan Golf Club President Jerome Khan ended second with a net of 142, tied with Mike Gayadin who also recorded a net of 142. Third flight was led by Esau Shamshudin who recorded 187 gross and 147 net, outplaying K. M Chung (187 gross and 149 net) and Paton George (193 gross and 149 net).
At the presentation, club President Khan expressed his gratitude towards all players, supporters and sponsors, while Digicel Head of Marketing Jacqueline James lauded the outcome of the tournament and urged persons both young and old to continue palying the sport.
Meanwhile Ronald Bulkan, who was disclosed as a father-figure to the young Kishore, briefly spoke on the request of the new champion , saying that he knew Kishore as a young man who is "self-taught" and used a combination of "finesse and violence" on the course which led to his triumph over the other bevy of top golfers.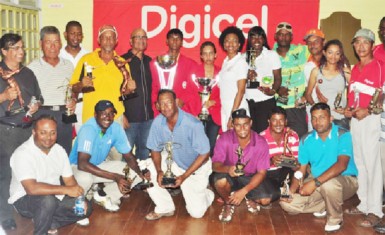 Around the Web