Guyana Football Feder-ation (GFF) President Christopher Matthias says that the FIFA Goal Project will be officially moved from its current location of Orangestein, Essequibo to the Leonora Synthetic Track Facility on the West Coast of Demerara.
Speaking via telephone following a meeting with the Minister of Culture Youth and Sports (MCYS) Dr. Frank Anthony at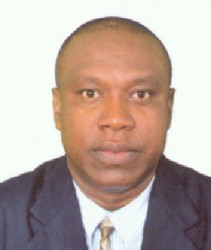 his Main Street Office, Matthias stated that the purpose of the conference was "to concretize the partnership between the Ministry of Culture, Youth and Sports and the GFF."
Quizzed about the main issue discussed Matthias said…"For the Goal Project to be kick-started, the month of November should not pass before we kick-start the project.
"We would like a Technical Centre built at the location. From the GFF, CONCACAF and FIFA perspective, two training pitches should also be constructed right at Leonora," said Matthias.
"They (MCYS) would like to see the plan and how we project to use this land and once everything is agreed upon, it will be signed off," he told this newspaper.
Asked about the factors which influenced the federation's decision to move the project from its original location, Matthias stated… "Great amount of anomalies were used with regards to the first project and the amount of human, financial and material resources that would be needed, would be astronomical to the GFF.
"It's far cheaper and more feasible to build the training centre at Leonora and we have been assured by the ministry that once we construct it there, the government will maintain it," said Matthias.
Questioned if the entire GFF executive body was in agreement with the expected relocation, Matthias said. "At the last executive meeting, the entire executive agreed that this is the way we should proceed."
He added that the Technical Centre will be used for conducting seminars, training courses as well as the housing of the athletes.
"Once everything is approved and at the turning of the sod, we expect an official of CONCACAF and/or FIFA to be present," Matthias declared.
Around the Web