LONDON,  (Reuters) – Ryan Giggs was the first graduate of the so-called 'Class of '92' to make his mark at Manchester United and on the day he turns 40, he is preparing for the weekend the same way he has for most of his life.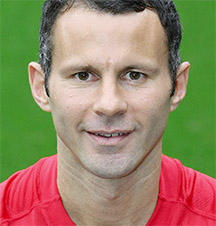 The mercurial Welshman has out-lasted David Beckham, Paul Scholes, Nicky Butt and Gary and Phil Neville, who came off the same United academy conveyor belt, and it is not beyond credibility that he could rack up 1,000 games for the club.
United's record appearance maker was one of the side's best players in the 5-0 Champions League hammering of Bayer Leverkusen on Wednesday, his 953rd match for the club, and he will be in the squad for Sunday's trip to Tottenham Hotspur.
With 13 Premier league titles, four FA Cups, two Champions Leagues, four League Cups and, surprisingly only one PFA Player of the Year award, Giggs has achieved everything possible in his club career, but still appears hungry for more.
"I'm lucky that I have been at one club, where I am surrounded by good players and a good manager," Giggs said in an interview with the BBC that will be screened today.
"I still want to do well in every game, want to win trophies and my focus needs to be on that. I look after myself and try to train every day in order to make myself available for selection.
"I enjoy it as much as I can and, of course, try to contribute to the team. I don't know what the younger lads think of me. When I was 17 and 18, I thought 31 was ancient. And here I am at 40!"
ROONEY PRAISE
Having spent the first half of his career rampaging up the left wing, Giggs has evolved into the complete midfielder and with United lacking in the creativity department, still offers the kind of guile and intelligence that money cannot buy.
Around the Web