LOS ANGELES, (Reuters) – Kobe Bryant's long awaited return to the basketball court began as a wild celebration on Sunday, but ended as a quiet reminder that the rusty All Star has more work ahead to get back to his brilliant best.
Bryant made his anticipated season debut in front of a frenzied Staples Center crowd, showing small hints of old form but mostly looking out of sorts as the Lakers were defeated by the Toronto Raptors 106-94.
In his first NBA action since he tore his left Achilles in April, the 35-year-old Bryant tested his surgically repaired foot during 28 minutes that saw him record nine points, eight rebounds and eight turnovers.
The Lakers all-time leading scorer made just two of nine shots and conceded that Sunday's return was just the first of many hurdles to come.
"I'm still feeling it out a little bit. My rhythm is completely out of sync," Bryant told reporters. "It's a start. The last time I had eight months off I was still in the womb."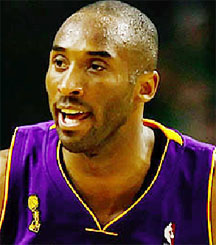 Bryant's arrival was a rebirth of sorts for the Los Angeles crowd who showered him with boisterous cheers from the moment he walked into the arena.
He received a standing ovation during pre-game warm ups and chants of "KO-BE" filled the air prior to tip-off.
Looking less explosive than usual, Bryant picked his spots carefully and was more of a willing passer than aggressive shooter.
Around the Web