Hundreds of Guyanese gathered at the Caribe Funeral Home on Utica Avenue in Brooklyn, New York on December 11 to celebrate the life of popular former Guyana batsman Vincent Mayers who collapsed and died suddenly at his home in Flatbush. Mayersie as he was known, had only weeks earlier appeared in good health at the biennial Golden Grove/Nabaclis New York organization breakfast at St. Gabriel's Church Hall on Hawthorne Street in Brooklyn. Needless to say his demise on December 5 came as a shock to many of us who had communicated with him at that function.
The viewing and funeral service which was held at one of the larger funeral homes in Kings County from 4pm to 9pm on a frigid late Autumn evening attracted a massive crowd of friends, fans, family, and former teammates who showed up to pay their respects to the diminutive right-handed stroke player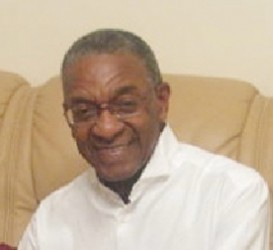 that last represented Guyana in Jamaica in 1969. The celebratory audience spilled out into the foyer of the facility, and unto the sidewalk, as cars were double parked in front of the building for blocks on the well-known thoroughfare.
Mayers represented Guyana batting as an opening batsman and also in the middle order on various occasions against Trinidad & Tobago, Barbados, the Combined Islands and Jamaica with varying degrees of success between 1966 and 1969, but his shining moment was undoubtedly against Australia at Bourda in 1965, when he fashioned an accomplished 51 as he confronted a high-class attack that included Graham McKenzie, Neil Hawke and spinners Peter Philpott and David Sincock.
In his heyday, Mayers played alongside such greats as Stephen Camacho, Roy Fredericks, Clive Lloyd, Rohan Kanhai, Basil Butcher, Clyde Walcott, Lance Gibbs and Joe Solomon who was in attendance at the funeral service. Reflecting on Mayers' cricketing career, many fans at the service and at the ensuing repast opined that considering the current roster of West Indies players in the various genres of today's game, the stylish batsman with his considerable skills would have worn the burgundy cap, had he been on the scene at this time.
Growing up at Diamond on the East Bank of Demerara where he was born on March 19, 1934, Mayers manifested an early passion for cricket and came to prominence when he commanded the local sports headlines hitting three consecutive centuries in the Wight Cup competition for East Bank estates. The prolific batsman was subsequently drafted by Demerara Cricket Club (DCC), where he featured alongside Colin Wiltshire, Lloyd, Carlyle Miller, and Gibbs under the captaincy of the late lamented Fred Wills. Mayers also represented Demerara at Inter County level with distinction on teams that included Winston English, Leon Stewart, and Vibart Durjun.
Since migrating to the United States in 1969, Mayers, before retiring, represented Atlantis Cricket Club which boasts a membership of many of his former DCC teammates. The affable and gregarious Vincent Norman Mayers, who was eulogized by family members as well as Winston English and Carlyle Miller, leaves to mourn, four children Terrence and Alison of England, and Anthony and Trevor who currently reside in Brooklyn, New York along with his seven grandchildren, one great grandchild, and several family members. This writer remembers Mayersie fondly as a kind, friendly, funny, compatriot who likely contrived to make a dignified exit on the very same day – December 5, 2013 as one of the greatest leaders of the 20th century Nelson Mandela.
Around the Web