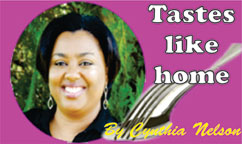 Hi Everyone,  One of the thrilling things about cooking with spices and herbs is that you can use them in many combinations and on each occasion be totally surprised by the flavour. What I especially like is how various cuisines use familiar ingredients in different ways to create a signature taste that distinguishes that cuisine. When we smell and taste cumin (geera), the flavours of India flood our senses.  It makes you think of Mexican cuisine too. With star anise, we think of Chinese cuisine, cinnamon and nutmeg makes us think of the Caribbean. Get my drift? The five-spice to which we are accustomed is the Chinese five-spice powder made up of star anise, cinnamon, Sichuan peppercorns, cloves and fennel seeds.
Panch Phoron, a five-spice mix made up of 5 different whole spices offers up a signature taste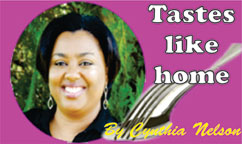 to the cuisine of West Bengal. In 2007 a good friend of mine, Sandeepa who hails from that part of India, introduced me to Panch Phoron, the five-spice blend for which her regional cuisine is famous. Sandeepa describes it as the sorceress of spices. What makes this spice combo unusual is that is primarily used in its whole form – not ground or turned into a powder. Handled this way, the spices are able to play off of the notes of many ingredients, giving each dish its own unique flavour.
In this context, the word tempering is used to mean season. Panch Phoron is used primarily to temper in two ways. And depending on which way of tempering you use the five-spices, the flavours can be pronounced or subtle.
To cook in with sautéed vegetables or potatoes, the oil is first heated, the spices added to toast in the oil and pop letting out their essence. This process results in the oil being flavoured with the spices and the flavours of the spiced oil will permeate and penetrate the ingredients with which it is cooked. The second way to use the spices to temper is to heat some oil in a small frying pan or metal ladle, add the spices to toast and pop and then ladle the hot flavoured oil and spices all over the finished dish – think of tempering/chunkaying dhal. Umm… so fragrant.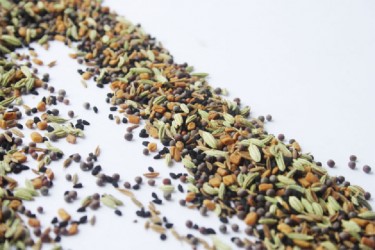 The five spices that comprise Panch Phoron are: fenugreek, nigella seed, black or brown mustard seeds, fennel seeds and cumin. In case you are more familiar with the other names for these spices they are: methi (fenugreek), kalonji (nigella seed), rai or shorshe (black/brown mustard seeds), saunf or mouri (fennel seeds), geera (cumin). To make the Panch Phoron, you mix equal amounts of all the spices together, store it in an airtight container and use whenever you like. All of these spices are available locally and most of them make up garam masala.
Most spice mixes have been created so that they can balance each other and to compliment each other. In the Panch Phoron mix you have bitterness (fenugreek), piquancy (mustard), anise notes (fennel), sharp and slightly bittersweet (cumin) and peppery (nigella seeds). As you can see from that description there is a theme of heat, spiciness with underlying notes of bitterness. The key thing to note here is that depending on the ingredients that the spices are cooked with, the flavours will interact differently. That is what is great about cooking. For example if the spice mix is cooked with okra it will taste one way, if it is cooked with pumpkin, the flavour will vary, if it is cooked with fish the flavour notes will be different. And just as a reminder, the application of tempering that you use will impact on the overall flavour of the dish.
Panch Phoron can be used with any vegetable and it is particularly good with seafood – fish, shrimp, crab etc. I like to make fried (sautéed) potatoes with it and often use it to temper dhal, alone, and with thinly sliced garlic. Or you can add it to potatoes to roast in the oven. Rice cooked with Panch Phoron and ghee makes my mouth happy. Start off by heating the ghee in the pot, frying the spices, adding the washed and drained rice, season with salt to taste, add water, bring to a boil, cover and cook on low heat until all the water is gone. Fluff and serve as is or with a protein of your choice.
Try it and let me know what you think.
Cynthia
Around the Web