McNeal Enterprise and Hits and Jams Entertainment have sought to make good on the R Kelly debacle and will present the R&B singer here in concert on October 19 at the Guyana National Stadium, Providence.
McNeal head Odinga Lumumba promises that it will be an even bigger show, with the addition of Morgan Heritage, KI and JMC Triveni.
Speaking at a press conference on Wed-nesday at the Water Chris Hotel, Lumumba seated between Hits and Jams managers Rawle Ferguson and Kerwin Bollers stated: "R Kelly will be here on October 18. A new contract was drawn up, sealed and delivered. He will present himself on a series of television, radio and public relations events before the show."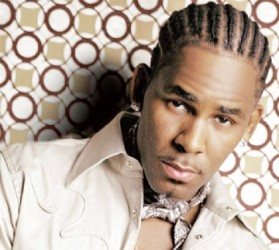 Hits and Jams Entertainment in particular came under attack by disappointed fans who had anticipated the Jamzone International Night show which should have been headlined by Kelly on Saturday, August 24. Kelly's promoters reported that the cause for his absence was due to him being ill.
On August 29, the Grammy award winner posted on his Facebook fan page: "To all my fans in Guyana, I apologize for having to reschedule my show but I will be there on October 19 to give you a performance worth waiting for. Thank you for your patience and understanding. I love you all and can't wait to see you!"
Lumumba expressed that although the organisation by law does not have to reimburse anyone for their purchased tickets; it is a process that has been on-going for a few days now and a process that will soon come to an end.
"We will stop it soon so people can use the tickets they already have to go out and enjoy the show. Those tickets can still grant them access and this show will be an even bigger show!" he promised.
Lumumba added that another artiste had made an oral agreement but the organisers of the show will not reveal this artiste until a contract has been signed. Because of the additions to the show, the price of VIP tickets has been increased from $20,000 to $35,000 and regular tickets to $6,000.
Around the Web