(Billboard) – Though it seemed like there was going to be a race for the No 1 album on the Billboard 200 this week, Ariana Grande's 'Yours Truly' comes out on top by a sizable margin.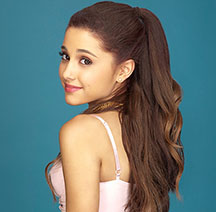 The debut effort from the 20-year-old-singer/actress tops the list with 138,000 sold, according to Nielsen SoundScan. Behind it R&B singer Tamar Braxton debuts with 'Love & War', which launches at No 2 with 114,000. (Braxton is No 1 on the Top R&B/Hip-Hop Albums chart and the Top R&B Albums chart.)
Grande is the first female artist to debut at No 1 with her first album since January 2010, when Ke$ha's 'Animal' opened at N. 1. As for Braxton, she tallies the largest sales week for a female R&B/hip-hop album since last November, when Alicia Keys' 'Girl on Fire' drew 159,000.
Last Friday, there was a bit of a competition brewing between 'Yours Truly' and 'Love & War'. At the time, industry sources suggested that 'Yours Truly' was aiming for a start of around 115,000 to 120,000, while 'Love & War' was eyeing 110,000 to 115,000.
A day earlier, Grande's camp launched a successful download album promotion tied to an upcoming holiday party to be hosted by the singer. Consumers who purchased 'Yours Truly' via her website (through Sunday, Sept 8 — the final day of the tracking week) received a ticket to one of a series of events with Grande later this year.
Around the Web