After three months of intensive training and competition, Tiffani Pamela Bonner of Peter's Hall, East Bank Demerara was crowned the 2013 Miss Guyana Talented Teen and Kefa Wesley Smith of Beterverwagting, East Coast Demerara the first ever Mr Guyana Talented Teen last Saturday evening at the National Cultural Centre (NCC).
The show, which started one hour late, saw Tiffany Ferguson, 18, Miss Lodge; Tiffani Pamela Bonner, 15, Miss Peter's Hall; Romichelle Brumell, Miss Linden; Chelsie France, Miss Enmore; Crystal Fraser, 15, Miss Cummingsburg; Reonna Howell, 16, Miss Liliendaal; and Janacie Klass,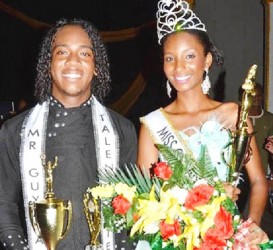 18 vying to be the 12th Miss Guyana Talented Teen. For the inaugural Mr Guyana Talented Teen, Kevin Smith, 17, Mr Parika; Dennis Glasgow, 16, Mr Anna Regina; Emperor Brummel, 16, Mr Lacytown; Mark Junor, 18; Kefa Wesley Smith, 17, Mr Beterverwagting; Fazil Rahaman, 19, Mr Grove and Linden Christopher Isles, 17, vying for the title.
Scores were awarded based on the introduction, swimsuit, talent, evening gown and intelligence segments on Saturday night and these were tallied with the cotillion dance and personality contests previously held. When the winners were announced after four and a half hours of competition on pageant night, the decision did not sit well with the few in attendance as they stormed out of the NCC in their numbers.
Ably hosted by Mrs Guyana United Nations Onieka Alphonso-Walton, the curtains rose on the show with the 14 teenagers dressed in black, blue and shimmering silver tricoloured outfits with top hats, some holding walking canes as they danced Broadway style to Beyoncé's "End of Time".
The dance routine led into the individual introductions, a graded segment called 'Gems of Guyana'. The 14 teenagers gave their names, a short biography, birth gems, village of residence and some even put in a quote or two.
All of this was before a fantastic cultural performance by the Majek Fingers Drumming School, with leading drummer Orlando Primo who was accompanied by a youth. This made way for a mesmerising routine by seven dancers from the National School of Dance to John Legend's "If You're Out There".
The swimsuit segment was next and it saw the young contestants model a greenish design with bold jaguar imprints highlighted by glittering gold. The girls wore bikinis, save for one, and the boys, beach trousers. Some contestants added accessories like towels and sunglasses. The only female contestant with distinctly different swimwear was Romichelle Brumell, who had been in an accident on Regent Street a day prior to the pageant. She was walking along the roadway when a vehicle collided with her and dragged her leaving an abrasion on her torso. She wore a connecting one piece that covered her torso but left her back exposed.
Next was a phenomenal Latin performance by Classique Dance Company, but this was soon overshadowed by the magnificence of Tennecia DeFreitas singing Rihanna's "Stay".
Talent was next on the programme, starting with Reonna Howell's interpretive dance in a white gown to Etana's "Free". She received deafening applause.
Janacie Klass recited Maya Angelou's "Phenomenal Woman", but fell short of the mark. That she took a while to present herself on stage after her name was called did not help and she became thoroughly distracted towards the end by the heckling and loud comments thrown at her.
Chelsi France, in all-over-pink school uniform costume sang a calypso, "Culture Shock", through which she expressed surprise at the level of crimes and other social issues in Guyana. She received satisfactory support from the audience.
Next was Fazil Rahaman who came on stage as a tourist from Guyana. Showcasing our cultural dynamic he danced to Indian music then a burst of soca which captivated the audience. He received hearty applause.
Kevin Smith did a dramatic piece, 'Marks of a Beast', appearing on stage looking beaten-up with a distressed facial expression, leg in cast and walking cane. The piece was about a child suffering physical and emotional abuse from his family. Although Kevin did an excellent presentation, members of the audience felt it was appropriate to chime in blurting what should be done and asking why he was abused in the first place. Some audience members went as far as bellowing provocative insults. Kevin handled this well.
Kefa Smith's performance was announced to be a motivational lesson and about soaring to higher heights. He appeared on stage wearing a graduation gown with a trophy and framed degree. However, he placed these items down, picked up the microphone and began to sing R Kelly's "I Believe I Can Fly", to loud applause and screams from the audience. Coming to the bridge of the song, a swing-like prop with wings descended on stage and Kefa ripped off his gown to reveal his all-white attire and dazzling silver tie. He jumped up on the swing and was raised a few feet off the ground descending at the end. This presentation was a definite win as he received a standing ovation.
Romichelle Brumell was next, but gave a non-thrilling performance. Wearing a pink gown with silver earrings and matching necklace, she stood at centre stage during her entire song. A white backdrop with lights flickering off it may have been meant to spice up her performance; the audience was not impressed.
Dennis Glasgow's dramatic piece "To the Mad Woman in My Backyard", received reasonable support from patrons although once again they interrupted the performance with loud comments. His talent piece was based on a conversation with an unseen madwoman; he often shouted to her about who was really mad and the realities of life.
Tiffany Ferguson came on stage wearing a multi-coloured costume of the five flag colours. Her presence was warmly greeted and she did a masquerade dance to a rhythmic Afro-Caribbean beat and received loud and hearty applause.
Emperor Brummel was next, dancing to Michael Jackson's "Earth Song". He clearly had fans in the audience as he was mightily cheered for a performance that lacked substance and was of poor quality.
The audience was in for another treat with Mark Junor's dramatic dance to Bruno Mars' "If I was Your Man". It was announced that Mark would portray a ten-year-old boy who fell desperately in love with a girl only to be heartbroken. The audience loved it.
But he was soon forgotten as Tiffani Bonner stepped on stage with confidence to sing Beyoncé's "Listen". There were a few technical glitches out of her control at the beginning, but Tiffani took then in stride and blew the audience away with her near-perfect rendition and excellent poise.
Crystal Fraser's rendition of Pink's "Family Portrait" saw her presenting herself in a blue robe, sitting curled up and holding a blue teddy bear. As she sang the first chords the humiliation began with the audience making loud comments about her being off key and other derogatory statements. Crystal, to her credit, continued without paying heed to the audience as they showed lack of interest.
The final talent piece was presented by Linden Isles entitled 'Cultural restoration through drumming.' Isles' instrumental performance received strong support from the audience.
After a 15-minute intermission, the second half of the pageant opened with a cotillion dance by the 14 contestants. Beautifully done and in exquisite taste, the seven males and seven females danced around the stage making this introductory presentation a masterpiece. On Saturday, September 28 the Ms and Mr Guyana Talented Teen pageants held a cotillion dance contest at the Upscale Restaurant which was scored and won by Emperor Brummel and Reona Howell.
After another excellent performance from Tennecia DeFrietas and one from the Phenomenon School of Dance it was straight into the evening wear segment.
Reonna wore a lime green gown with a red bold design running down the front of her bodice, accessorised with red earrings.
Janacie's gown was a silky silver with a golden head piece that complimented the sparkling golden bodice with a golden band that wrapped around her waist.
Chelsie's was a milky white, with a sparkling pink waistband, puff-sleeves and dangling silver earrings.
Fazil appeared in a blue shirt, yellow tie, black waistcoat, black jacket and black pants.
Kevin wore white pants and a long jacket that covered his green shirt held down by a pink cummerbund and necktie.
Kefa was dressed in all-black with silver beads designing the cuff of his jacket sleeves, around the neck and running down his pants.
Romichelle wore a silver gown with a bold black strip on the bodice and black lace.
Dennis wore a red suit with a greyish-white fedora hugged by a silver band. He opened the jacket to reveal a black waistcoat, white shirt and a black bow tie.
Tiffany nearly tripped but soon caught her balance. She wore a slimming lime green gown with gold and silver earrings.
Emperor wore cream pants, green shirt covered by a white jacket with thin black parallel stripes.
Mark's hairdo clashed with his evening wear and the audience let him know. He wore a black suit with a white shirt and a red tie, but his hairdo: an unusual cut with half of it dyed yellow seemed incongruous.
Tiffani's gown was a green strapless with a patterned bodice and a gossamer-like flared skirt. She wore silvery jewelled earrings to match.
Crystal's gown was peach with a lacy back.
Linden wrapped up the segment with a black suit covering a white shirt with notable multi-coloured diamond patterns in his tie. He capped it all with a black fedora.
When the special awards were announced, Linden received the Mr Stick-To-it Award for not giving up when he had mixed emotions about the competition due to shaky support from family and friends. Romichelle received the Miss Stick-To-it Award for effortlessly competing in the pageant despite having been in an accident just the day before.
The Miss Congeniality award was accredited to Crystal, while Mr Congeniality went to Kefa. He was also awarded for Best Male Introduction, Best Talent and Best Male Body. The prize for Best Female Introduction went to Chelsie. Best Female Body and Best Gown went to Tiffani.
The award for Best Smile went to Reonna and Best Dressed Male to Fazil.
After a considerable amount of minutes, during which the audience heckled the judges and taunted Charmaine Blackman who was in the audience with her husband, Bonny Alves to sing, the four male and female finalists were announced.
The final eight were Tiffani, Romichelle, Chelsie and Reonna for girls and Fazil, Kevin, Dennis and Kefa for boys.
The final question entailed all of the contestants being taken off the stage and then called in no particular order to answer: Are you a daddy's little girl? (females)/Mommy's son son? (males) or an Amazon Warrior?
Tiffani answered that she was an Amazon Warrior. "Reason being, I am determined. I fight for what I believe in, and no matter how difficult a given task may be I always strive in completing it to the best of my ability."
This answer, short and to the point received massive applause from the audience.
Dennis also said he was an Amazon Warrior. He gave a great answer with a person touch, talking about how he fought through the pageant to the very end despite lack of encouragement.
Fazil in a surprise twist answered that he is a Mommy's son son because of the love and support she gives him. After a little boo from the audience, his great explanation wowed the audience for which he received strong applause.
Romichelle gave an answer with a personal message when she said she was an Amazon Warrior. She said that you have to show people that you are worth what they are looking for. This answer received tremendous applause and roars from those in attendance.
Kefa answered that he was a mommy's son son because, "All that I am from a toddler to where I am now is all due to my mom. She has been my inspiration, my biggest fan. She stands by me through all that I set out to do, the wind beneath my wings which allowed me to soar. She taught me all that I know and that is what is portrayed from this, my mother's son." For such an inspirational response he received strong support from the audience.
Reonna answered that she was a warrior. She received little support from the audience since her answer was too loud and vocal and not at all gracious.
Kevin got very strong support after answering that he is a warrior for his dedication towards anything he puts his mind to and his strong passion for life.
After about 15 minutes, during which the audience began to get restless and rowdy despite overtures from hostess Onieka, Pageant Director Pamela Dillon was forced to speak to them.
Finally the results were revealed. Third, second and first runners-up were Reonna, Romichelle, and Chelsie respectively with Tiffani taking the title and being crowned by Pamela Dillon.
For the guys, third, second and first runners-up were Kevin, Fazil and Dennis. Kefa took the title and was sashed by Pamela Dillon.
Tiffani, a student of Tutorial High School has won an undisclosed cash prize, a trophy, a wardrobe and a trip to St Kitts and Nevis, where she will represent Guyana this December at the Miss Caribbean Talented Teen Pageant.
Kefa also won an undisclosed cash prize, a wardrobe and a trip to St Kitts along with his colleague in December. He will be making a special appearance at the Miss Caribbean Talented Teen Pageant.
The judges were: Michon Pertab-Sukhoo – Miss Guyana Plus Size 2012; Ulex Atwell-Fung – the first Ms Guyana Talented Teen Queen in the inaugural 2000 pageant (Chief Judge); Glendon Fogenay – Assistant Permanent Secretary at the Ministry of Education; Zina Edwards – communications student at UG; Adaeze Lumumba – student at UG; and Katherina Roshana – Miss Guyana Universe 2013.
Around the Web