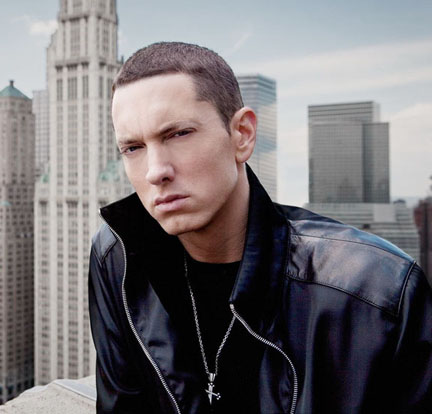 (Billboard) – Eminem debuts in the top 10 of Hot R&B/Hip-Hop Songs for the third time this year as "Rap God" opens at No 2 thanks to 270,000 downloads (according to Nielsen SoundScan) and 1.4 million US streams (according to Nielsen BDS).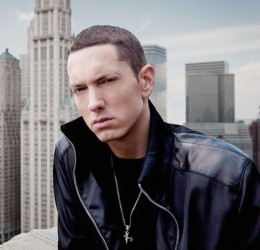 "Berzerk," the first single from 'The Marshall Mathers LP2' (due Nov 5), debuted at No 2 on the list dated Sept 14, while "Survival" debuted at No 6 last week. No other artist has posted three debuts in the top 10 this year (Drake has had two). Speaking of Drake, "Hold On, We're Going Home" picks up a fourth week at the summit marking his second longest No 1 run as a lead artist — his debut single "Best I Ever Had" recorded seven weeks in 2009. When you factor in all of the No 1s he's assisted, Drake has racked up 46 chart-topping weeks in his short four-year career. Only Usher (68 weeks) and Alicia Keys (54 weeks) have spent more time at the top since Nielsen's data began powering the chart in 1992. Eminem's No 2 debut causes a one position drop for each of the next four songs: Jay Z's "Holy Grail" (2-3), Robin Thicke's "Blurred Lines" (3-4), Mike WiLL Made-It's "23" (4-5) and "Berzerk" (5-6). YG's "My Hitta" stays put at No 7 despite a 31% rise to 3.1 million listener impressions in the Oct 16-22 tracking week as does Chris Brown's "Love More" at No 8.
The aforementioned "Survival" takes the biggest tumble in the top 10 falling 6-9 while J Cole's "Crooked Smile" slides 9-10 to close out the region. Between "Power Trip" (No 5 peak) and "Crooked Smile" (No 7), Cole has spent 28 weeks in the chart's top 10 this year.
On Top R&B/Hip-Hop Albums, Drake's 'Nothing Was the Same' posts a third chart-topping week, moving 58,000 units (a 30% drop). Justin Timberlake's 'The 20/20 Experience (2 of 2)' steps 3-2 with 35,000 copies (down 49%) pushing last week's Hot Shot Debut, Pusha T's 'My Name is My Name', down 2-3 with 20,000 (down 74%).
At No 4, Los Angeles rapper Dom Kennedy posts his first top 10 with 'Get Home Safely' shifting 12,000 copies. This is his second appearance on the chart following 2011's 'II: From the Westside, With Love' which debuted and peaked at No 19 with 6,000.
Though the 29-year old emcee has only charted two albums, he keeps his fan base satisfied with constant mixtape releases, totaling eight since 2008. His 2012 mix tape 'Yellow Album' was such a success, it set the rapper off on the "Yellow Album World Tour" hitting five European cities and 13 US cities last fall.
Rounding out the top five — and introducing the holiday season to the chart — is Mary J. Blige's 'A Mary Christmas' opening at No 5 with 12,000 copies. Blige's first seasonal set matches the timing of last year's first Christmas entry on the list, Kem's 'What Christmas Means', which entered at No 19 a year ago. That set eventually peaked at No 9 the following month.
Blige's debut marks her 15th top 10 title on the list, tying her with Snoop Dogg for second-most top 10s in the Nielsen era. Jay Z holds the record during this timeframe with 20 top 10s. Blige's last chart appearance, 'My Life II… The Journey Continues (Act 1)', debuted at No 3 on Dec 10, 2011 with 156,000 before going on to peak at No 2 the following week.
Around the Web