(Billboard) – Katy Perry's new 'PRISM' album debuts at No 1 on the Billboard 200 this week, selling 286,000 copies, according to Nielsen SoundScan. The most recent tracking week ended Sunday, Oct 27.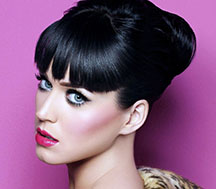 It's the largest sales week this year for an album by a woman and the second-largest for a pop effort. Among women, she surpasses Miley Cyrus' 'Bangerz' for the year's biggest sales week. ('Bangerz' bowed at No. 1 with 270,000 three weeks ago.) Among pop sets, only Daft Punk's 'Random Access Memories' had a larger frame this year, when it debuted with 339,000.
'PRISM' also tallies the debut largest week for a female pop artist's album since Madonna's 'MDNA' bowed at No 1 with 359,000 on the April 14, 2012, chart.
'PRISM' is Perry's second No 1 album, following her last release, 2010's 'Teenage Dream'. 'PRISM' also     captures Perry's biggest sales week yet, stepping ahead of her previous high-water mark, when 'Teenage' launched with 192,000.
While Perry's 'PRISM' brightens the top of the chart, the rest of the albums on the tally sell far fewer copies. In fact, 'PRISM' outsells the Nos 2-9 albums combined. In turn, overall album sales fell to a historic low this past week: 4.49 million albums were sold, falling below the SoundScan-era (1991-present) low that was set in the week ending Sept 15 (4.54 million).
Meanwhile, last week's No 1 album, Pearl Jam's 'Lightning Bolt', falls to No 2 with 46,000 in its second week. It's down by 72%.
Perry's 'PRISM' is one of four albums to bow in the top 10 this week. The next-highest arrival is Fifth Harmony's 'Better Together' EP, which starts at No 6 with 28,000. The six-song set marks the highest-charting effort from an act born from the US edition of "The X Factor." The five-piece vocal act formed during the second season of "The X Factor" in 2012.
Only one other US "X Factor" act, Emblem3, has reached the top 10. That trio's debut set, 'Nothing to Lose', debuted and peaked at No 7 on the Aug 17 chart.
DJ Khaled's new album 'Suffering From Success' also starts in the top 10 this week, bowing at No 7 with 27,000 sold. It's the hip-hop DJ's fifth top 10 effort, and follows 2012's 'Kiss the Ring', which launched at No 4 with 41,000.
AFI's 'Burials' rounds out the arrivals in the top 10, as it debuts at No 9 with 25,000. It's the third top 10 album for the band, whose last studio set, 2009's 'Crash Love', debuted and peaked at No 12 with 52,000. It previously logged top 10s with 2006's No 1 'Decemberunderground' and 2003's No 5 hit 'Sing the Sorrow'.
As for the rest of the holdovers in the top 10, Drake's 'Nothing Was the Same' is up one slot to No 3 with 44,000 (down 24%) while Cyrus' 'Bangerz' dips 2-4 with 43,000 (down 40%).
Lorde's 'Pure Heroine' climbs 7-5 with 40,000 (down 16%), and Justin Timberlake's 'The 20/20 Experience (2 of 2)' rises 11-8 with 26,000 (down 28%). Luke Bryan's 'Crash My Party' is the last of the non-debuts in the top 10 this week, as it ascends 12-10 with nearly 25,000 (down 3%). Notably, Republic Records is home to half of the top 10 this week, as it owns the current top 10 sets by Pearl Jam, Drake, Lorde, DJ Khaled and AFI.
Around the Web