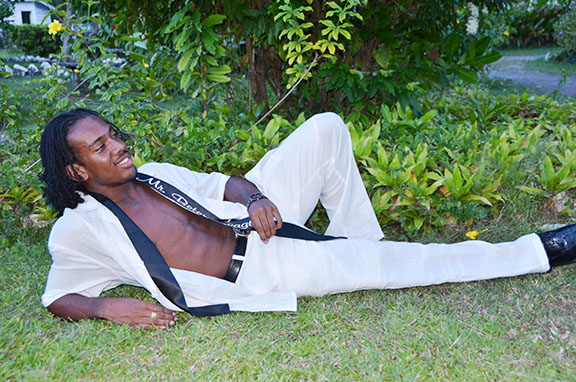 Kefa Wesley Smith is the first ever Mr Guyana Talented Teen and it is a title he is proud to hold. He plans on using his reigning year to continue a charity project started by the Guyana Talented Teen pageant, whereby he supplies five needy children with educational material for the entire year. Kefa said he will also make it his personal goal to continue this project even after his reign.
It is quite interesting that Kefa never had any interest in pageantry before Mr Guyana Talented Teen. He was motivated by his designer friend Nelsion Nurse, who encouraged him to enter the pageant, because he felt the talent Kefa possessed would have benefited the inaugural Mr Guyana Talented Teen.
Kefa's interests eventually saw him accepting the invitation to audition. He was successful and according to the King himself, everyone on the auditioning panel loved him from then on.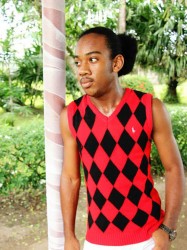 Initially, he thought that he would have met some "stuck-up" contestants but it was actually the opposite. They all got along just fine and he described them as one big family for the three months they were all together.
If it was Nelsion Nurse who prompted him to enter the pageant, then it was his cousin Sean Thompson of the USA who encouraged him to continue to pursue it. Sean, who was in the country at the time, told him to do his best, despite his mother not being very pleased that he had entered a pageant.
Kefa's mother, Marva Mason of the Queenstown Secondary School, had to feel certain that her son would be comfortable in a pageant. It was a committee member who spoke to her and highlighted the benefits of the pageant; from then on she gave him her entire support.
Kefa was born at the Georgetown Public Hospital on November 3, 1996 which makes him 17 years old tomorrow. He spent his early years in a rural community in the Mahaica sub-region but he and his mother moved to the city when he was five.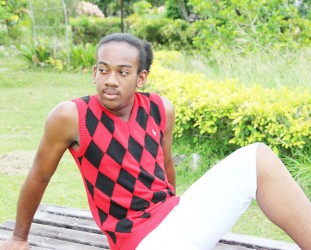 He was fond of his grandfather who died of cancer in 2008, just four days after his birthday which devastated Kefa. Tragedy struck again when his dad died in February of this year. That took an emotional toll on him which he still endures today but remains hopeful of his bright future ahead.
He attended the St Gabriel's Primary School before going to North Georgetown Secondary School from where he is preparing to graduate later this month with a whopping 13 passes in the CSEC examinations where he focused in the business stream.
His social life revolves around his many volunteering projects. He is a part of the Youth Ambassador Program 2013/2014 which is a United States embassy project in Guyana. He is also a volunteer with the US Embassy's Guyana Shines Project, the President Youth Award, Republic of Guyana (PYARG) and the Come Alive Network Incorporated which was started by 2013 GT&T Guyana Star, Ryan Hoppie.
In the future Kefa plans on furthering his studies at the University of the West Indies, St Augustine, Trinidad campus.
His hobbies includes singing, dancing, acting, hiking and camping and of course a deep passion for volunteering.
Drama is a major part of his life. In his own words, "It is a part of me I would never let go". He recently was cast in Bamboo Ally which was written and directed by Beverly Cyrus. This play was for the National Drama Festival which is currently ongoing. Other cast members included past actors from the North Georgetown Secondary School: Lisa Punch, Colin Primus and Paul Calendar.
Kefa, who said he is inspired by actor, director and producer Tyler Perry, along with 'the King of R&B' R. Kelly, sang one of Kelly's hit songs "I Believe I Can Fly" for his talent piece, leaving the audience mesmerised. But according to Kefa, the biggest inspiration of all comes from his mother. In his final answer, on the night of the pageant, when he was asked if he was an Amazon Warrior or a Mommy's son son, he said he was the latter because, "All that I am from a toddler to where I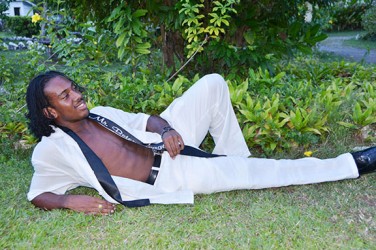 am now is all due to my mom. She has been my inspiration, my biggest fan. She stands by me through all that I set out to do; the wind beneath my wings who allowed me to soar.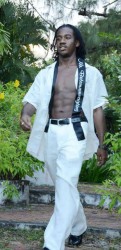 She taught me all that I know and that is what is portrayed from this, my mother's son." For such an inspirational response he received strong support from the audience.
He described the entire pageant experience as amazing and overwhelming; especially at the actual pageant night. "It was the night we were all waiting for. It only hit me that this was it after the opening dance. All the time it just felt like a normal show," he said, "It was an amazing experience throughout and I never thought I would've been involved in something like that, but I am glad I was."
He expressed that to guide him through the night he just kept focused on all of the advice and instructions which were given throughout the three months of training. "It was a learning experience," he said, "since we were not only taught how to walk, talk and how to present ourselves in public but at various times there were little life lessons and talks by Pamela Dillon [director] and Gileon James [committee member and contestant liaison/chaperone]."
Kefa will accompany Ms Guyana Talented Teen, Tiffani Bonner to St Kitts for the Miss Teen Caribbean crown in December. He is scheduled to make a guest appearance.
Around the Web