Hi Everyone, With the holidays looming large, everyone is looking to spice things up – literally and figuratively. The powerful spice trio of cinnamon, cloves and nutmeg has the path cleared for them as they head directly to many holiday favourites – beverages, meats, cakes and cookies. Many of the other spices are content in the knowledge that this is not their time or their season. However, given that the holidays are all about family and friends being together, I thought I'd invite some of the other spices to join the holiday table.
Side dishes are what make big meals memorable. Think about it, the meats are usually standard – ham, baked pork, roast beef, roast turkey, baked chicken and so on. What home cooks are constantly on the hunt for is what to serve with the meats and what can they do to transform their regular ingredients that will make them worthy of the big centrepieces of meat.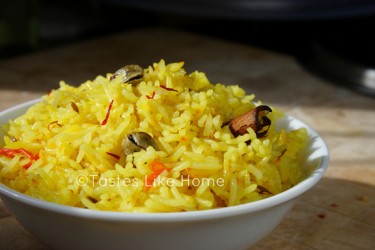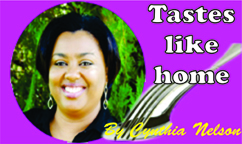 Rice and potatoes are our go-to staples. They are filling, they are ideal for feeding large groups and best of all, they are like blank canvases upon which we can paint whatever we want. We do this by way of the spices, herbs, vegetables and flavoured liquids we add to them. We can also apply different cooking techniques to rice and potatoes to yield different textures.
This week I am sharing with you a rice dish that will be gracing my table. I want something a little different. Let me add that even if you don't try this dish, allow me to suggest some ways in which you can change things up a little. If all year round, you cook with a particular type of rice, then for the big holiday meal, use a different variety of rice; it will give you a different taste and texture. If you generally cook your rice and peas with water, use stock or coconut milk instead. If you always use one type of peas or beans, then try another. If the fresh variety of the peas or beans is available, opt to use that instead of the dried version or vice versa. If you usually boil your rice, cook it another way – use the absorption method. If Fried Rice is what you are making, add in some dried fruit such as raisins, currants or cranberries and taste the difference.
Here's something about cooking at the holidays, it comes around once a year so indulge a little if you can when it comes to certain ingredients, especially if those ingredients are not normally part of your everyday shopping basket or cart. Treat yourself and your loved ones; you're all worth it.
For my rice dish: Saffron-Cardamom Rice, I retrieved my little bottle of precious strands – saffron, that I got all the way from Persia (modern day Iran). Saffron from Spain, India and Greece are excellent too. The other star of my rice pilaf is cardamom. Cardamom (eliachi) is the third most expensive spice in the world but I love it so much that I always splurge when I am travelling to get cardamom and vanilla bean pods. There are some back-up spice players in this pot of spiced rice – cumin (jeera), bay leaves and cinnamon. The rice of choice for this dish is Basmati rice.
Now hold on, I am not telling you that you must go out and find these exact ingredients if you want to make the Saffron-Cardamom rice. Here are some alternatives that would give you the same look but a different flavour. For the saffron, if you can find annatto that would work, if you can't find annatto, then use some ground turmeric or saffron powder. It is highly likely that you can get your hands on some cardamom (eliachi), use the green ones (they come in black and white too but that's for another time). If you don't want to use Basmati rice, any long grain white rice would do as would long grain parboiled rice, Jasmine rice or even brown rice. The water to rice ratio would have to be altered in each case so I would suggest you follow the package instructions for the rice.
Ready? Let's cook some spiced rice.
Saffron-Cardamom Rice
Yield: 6 cups
INGREDIENTS
●             2 cups Basmati rice
●             Water
●             2 tablespoons butter (salted or  unsalted)
●             1 tablespoon vegetable oil
●             ½ cup finely minced onions
●             Minced hot pepper to taste
●             6 green cardamom pods, lightly  crushed
●             1 cinnamon stick (3-inch piece  cinnamon)
●             2 bay leaves
●             1 heaped teaspoon whole cumin (jeera)
●             1 teaspoon saffron threads soaked in 1 table spoon hot milk (heat milk in a small microwave-safe bowl then add saffron)
●             2 + 2/3 cups boiling water
●             Salt to taste
DIRECTIONS
1.  Wash the rice several times, drain and transfer to a bowl. Cover with tap water and let soak for 30 minutes.
2.  Add butter and oil to pan and melt/heat on medium heat.
3.  Add onions, a pinch of salt and reduce heat. Cook until onions are softened and translucent, about 2 – 3 minutes. Do not let the onions develop colour.
4.  Add pepper, cardamom, cinnamon, bay leaves and jeera, raise heat just a little, stir to mix the ingredients and let them cook gently in the butter-oil and become fragrant; about 2 – 3 minutes.
5.  Drain rice well and add to pot with spices, raise heat a little and stir to mix rice with spices. Cook together for 2 – 3 minutes.
6.  Raise heat to medium and add milk-saffron mixture and boiling water, season with salt to taste and stir to mix. Cover and bring pot to a boil, let cook for 2 minutes then reduce the heat to low/simmer and cook covered for 25 minutes. At the end of the 25 minutes, shut off the heat but do not open the pot; let it stand for 10 minutes.
7.  Remove the lid, fluff the rice with a fork and serve as a side dish.
NOTES
●             To serve this rice, I would suggest that the meat or whatever protein you are using be seasoned with an  herb-based paste or marinad instead of a spice-rub. Reason being is that you want the rice
and the flavours of the spices to complement and not overburden  the palette.
●             This pilaf tastes good on its own.
●             Add in a handful of golden or  dark raisins if you like. Stir it in   just as you are fluffing the rice and let it warm in the rice for at least 5 minutes before serving.
Cynthia
Around the Web