Exploratory discourses between Research Director of the College of Agriculture, Family Sciences and Technology at the Fort Valley State University (FVSU), Georgia USA Dr Govind Kannan and Guyana government officials could lead to multi-faceted collaboration between Guyana and the US-based university aimed at enhancing capacity in the country's agricultural sector.
Dr Kannan who is also Dean of the Agricultural Faculty at FVSU, accompanied the University's President, Guyanese-born Dr Ivelaw Griffith on a visit to Guyana earlier this week.
Kannan told Stabroek Business on Monday that he welcomed the opportunity to be inGuyana to examine possible areas of collaboration between Fort Valley's College of Agriculture and Guyana's agriculture sector.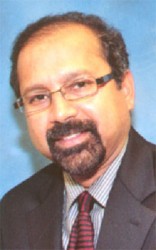 The Indian-born Animal Scientist whose areas of scientific research include small ruminants, said Fort Valley was likely to be interested in, among other things, working at the community level with small farms and underprivileged farmers, empowering them with the knowledge and technical skills necessary to sustain successful agricultural enterprises.
Dr Griffith and Dr Kannan were due to meet President Donald Ramotar last Wednesday to discuss, among other things, a role for Guyana in a proposed Center for Homeland and Global Food Security at Fort Valley State University.
Asserting that "food security is not just about agriculture," Griffith said "part of the challenges of food security is educating people properly. Some of the people who are to be educated are illiterate, you cannot write books for them. You have to find ways – through video, through art, through culture to send the message."
According to Kannan, the strength of Fort Valley's agricultural programme reposes in its work with "small ruminants, sheep and goats… The kind of people we serve are rural farmers… That is what is going to revitalize rural communities around the world. The areas of research we emphasize have a global impact."
Griffith told Stabroek Business that he believed that part of the challenge of food security goes beyond producing enough food. It is, he said, also a matter of "how you reduce spoilage from place of production to market" as well as how you pursue logistics efficiently "to move food from the interior to other parts of the country… Given Guyana's geography it is difficult to move food from Paramakatoi or Imbaimadai to Georgetown without spoilage. How do you bring logistics together? How do you bring the culture people together?"
He said that pursuing food security involved bringing the economists, the animal scientists and the bio-technology specialists together, "because it is not simply about farming, it is about getting food to people."
Collaboration between Fort Valley State University and Guyana could embrace both specially designed programmes for farmers with limited formal education and conventional university academic programmes.