Chastened it seems by sustained criticism of what is widely felt to be the underperformance of the Guyana Office for Investment (Go-Invest), the Government of Guyana late last month named Presidential Advisor Keith Burrowes Chief Executive Officer.
Burrowes's taking up of the mantle of this much-maligned organisation follows a string of acting appointments to the position over several years since the departure of Geoffrey Da Silva as Guyana's Ambassador to Caracas.
Generally regarded as a key public servant in the current administration Burrowes, who currently also serves as Chairman of Go-Invest will relinquish his substantive position as Head of the Health Sector Development Unit (HSDU) from which vantage point he oversaw the execution of several multi- million-dollar IDB-funded projects.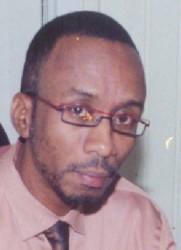 Once his appointment became public, Burrowes agreed to speak with Stabroek Business about his focus. He said he wanted to "face, head on" the criticisms of Go-Invest during his tenure as Chairman. Burrowes says he feels "no pressure over the criticism," pointing out that the dichotomy between the expectations of Go-Invest and the resources at its disposal was always "an issue."
Burrowes says Go-Invest was only a one-stop entity in the sense that it has responsibility for guiding potential investors to the various investment-related entities.
He defends GuyExpo by pointing out that there were those who appeared to expect the institution to be "all things to all people."
As far as what is already believed to be his holding of both the position of Board Chairman and CEO is concerned Burrowes says that that "will not be the case." A new Board will be appointed as part of what will be a complete overhaul of Go-Invest.
The office of CEO of Go-Invest provides Burrowes with the opportunity to help make the changes which he believes can transform the entity. He provides few details on the planned overhaul of the entity, deferring he says, to the perspective of the President though he makes no secret of the fact that he has ideas of his own as to how the entity should proceed.
He is aggressive on providing services for prospective investors, investment profiles, maps that provide information on resource distribution across the country and facilities that allow potential investors to communicate with partners overseas. "I believe that the quality of service that we provide will make a difference to the disposition of the investor," Burrowes says.
Asked about the role of the private sector in the shaping of the Go-Invest image his response was immediate: "We cannot work without the private sector. We cannot shape an effective Go-Invest without a private sector input. In fact, Go-Invest is about the private sector."
Asked about coming to what might be seen as a new challenge, Burrowes responds that he has been close to Go-Invest for some time. Apart from being quick to defend the organisation which has come under criticism in several other quarters, he insists that it has a critical role to play. "You cannot assert that you are open to investment, whether from the inside or the outside, with having the instruments and institutions with which to pursue that objective. If we are to develop an appealing investment profile we have to have a Go-Invest that is efficient, a Go-Invest that works."
Burrowes told Stabroek Business that there will have to be a settling-in period. He says he is concerned about the need to beef up the skills' levels in the organisation. "We need more people, more capable people, that is." He says he needs time too.
Asked about a turnaround time frame for the much maligned institution Burrowes thought about it for a while. "Give us a year," he says.
Around the Web