If all goes well, Guyana could have its first ICT-driven Smart School later this year, arising out of a currently unfolding initiative involving the world-renowned technology giant Samsung and the local communication technology service provider Starr Computers Ltd.
Yesterday, Stars Computers Chief Executive Officer Michael Mohan and a visiting senior regional Samsung official were due to meet President Donald Ramotar to brief him on the initiative that seeks to take what Mohan considers to be "the first critical steps to provide new, technology-driven tools for the delivery of education in Guyana."
Typical Samsung Smart Schools provide integrated one-on-one learning platforms that enable teachers to deliver interactive learning experiences and provide students with immediate, reliable data access. They are customarily equipped with workstations comprising Samsung notebooks and tablets,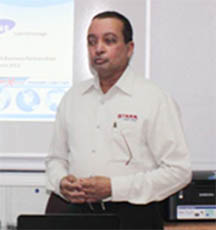 file servers and interactive e-boards and are designed to allow teachers and students to benefit from digital solutions in the learning process.
Mohan told Stabroek Business that the current initiative is intended to be the start of what he described as a process that seeks to take learning to a higher plane. Mohan said "it is not a question of abandoning our traditional classrooms but recognising that ICT is bringing enhanced benefits to education delivery."
The Smart School project marks the continuation of a relationship between Samsung and Starr which includes Starr's distributorship deal and service contracts for Samsung products in Guyana.
Mohan said that what Guyana can anticipate with the advent of the Smart School is "digital learning with the use of dynamic mobile hand held tools." He said it allows printed text books to be presented via digital contents across mobile platforms.
Once the project gets underway Samsung and Starr plan to make a joint investment in the creation of a Smart School in Guyana, while Mohan said Starr will be seeking to create its own Smart School Centre. He says that rather than leave the entire financial burden of creating a Smart School system entirely in the lap of taxpayers, Starr computers would be seeking to drive the process of encouraging other private sector entities to invest in the development of a complete Smart School regime here.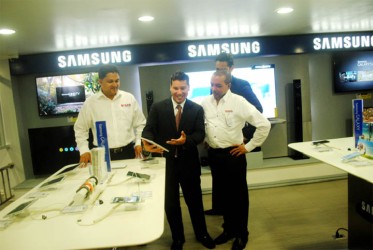 Meanwhile, the Starr Computers CEO told Stabroek Business that part of the mission is to seek out strategic partners in the education system including the local technical institutes and the Cyril Potter College of Education. "It is at that level that we particularly hope to generate enthusiasm for the project. Teachers and trainers as well as students at technical schools will be important to selling the project here in Guyana. The idea is to expose all of this technology to a generation that will be receptive to it," Mohan said.
And according to Mohan, reduction in education costs will be one of the most significant long-term savings to be derived from the popularization of the Smart School system. "We can also anticipate the creation of significant new employment opportunities in this new digital space," he said.
Mohan told Stabroek Business that the enhanced levels of education that are being provided through greater local access to the tools provided by ICT will better position Guyana to access key job opportunities when international investors come to Guyana.
Around the Web