This year, according to the public officials running GuyExpo, the event will play down the entertainment afforded mostly by the loud music and will focus more on the marketing and trading of goods, which is what we are continually told is much of the purpose of the event anyway.
The problem is that old habits die hard and the fact is that many visitors to GuyExpo go to Sophia for the entertainment so that some thought will have to be given to how another dimension can be added to the event that will ensure that people attend in their numbers.
The Amerindian traditional food and drink stalls truly made their mark at last year's GuyExpo. Our indigenous brothers and sisters are truly excellent cooks. Their various wines, too, were popular with visitors to Sophia.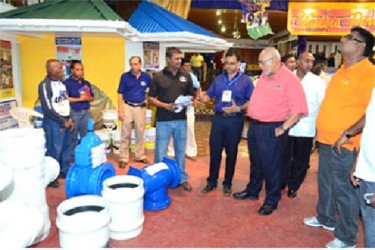 Part of the role of GuyExpo should be to popularise what Amerindian communities have to offer. Some of the proceeds from the gates could be used to finance a significant part of their participation at GuyExpo. There are those who might argue that GuyExpo is about business. On the other hand there is nothing wrong with subsidising Amerindian business ventures given that they do not get what one might call a fair deal as far as sharing the resources of the country is concerned, Incidentally, the organisers of GuyExpo really ought to be telling the nation how the monies that accrue from GuyExpo are spent. It is exactly that lack of transparency which gives rise to talk about fraud and corruption.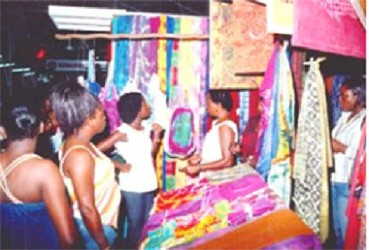 After all these years the jury is still out on the contribution GuyExpo makes to commercial life: the volume of buying and selling that occurs during the period of the event; the extent to which it promotes locally produced goods as well as the extent to which our manufacturing and particularly our value-added sector benefit.
We must begin by acknowledging that there is a certain anticipation to the weekend of GuyExpo from the vast numbers of small vendors offering a range of locally crafted goods—from shirts to sandals—to the throngs that find their way to Sophia, as much for the outing the event affords as for anything else. The argument has swung back and forth as to what GuyExpo really is and we have not been able to make up our minds one way or another.
GuyExpo has long made a case for its potential. It can, among other things, significantly increase local demand for locally produced goods. But then ours is a small market anyway and we must therefore ask ourselves whether or not GuyExpo can help increase the size of our external market beginning with our regional market or whether we have not, for example, immersed ourselves in delusions about the productive capacity of a manufacturing sector crippled by high energy, raw material costs and serious marketing limitations which rule out its competitiveness. Our politicians employ spin to convey impressions that are undermined by reality and even if they do not know it, it is the reality that people believe anyway. So that if our production costs and capacity and our marketing and packaging remain issues, GuyExpo will continue to have its limitations. We can hype up the event by bringing in exhibits from Asia and throwing in the telephone companies but that does not change the reality.
And yet we can hardly deny that GuyExpo is a peak period for small traders producing food, clothing, and art and craft. The fact is, however, that their ambitions as far as GuyExpo is concerned are mostly limited to that short-term windfall which the event affords them.
Around the Web