Earlier this week representatives of the United States-registered airline Dynamic Airways were in Georgetown seeking to recruit staff to fill a range of positions ahead of the start of its service between Guyana and New York scheduled before the customarily busy July and August travel season.
Dynamic Air has also reached agreement with Guyana to provide the service to Canada following a protracted period during which government was reportedly searching feverishly for an extra-regional carrier to ply the Guyana – North America route in the hope of boosting its tourist industry.
Earlier this week the airline was partnering with the local company Roraima Airways in order to recruit the required staff which Stabroek Business understands includes flight attendants and ground handlers. It is understood too that Roraima Airways will be handling the local ground-handling, security, and hospitality services for the Dynamic aircraft and crew.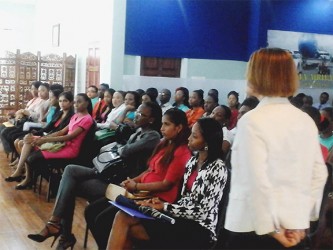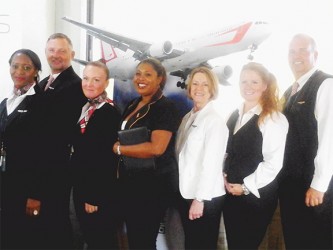 On Wednesday, the first day of the two-day 'job fair' more than 300 hopefuls turned up at Roraima's Duke Lodge Hotel in Kingston in the hope of being recruited to fill one of the approximately 50 positions available.
Dynamic's In-flight Director Deanna Amos said the Ground School training will be conducted at the Duke Lodge and the "hands on drills training" will take place in the United States. Amos said Dynamic was "eager and excited" about what the company anticipated would be a "long-term relationship." There are indications that Dynamic might be inclined to spread its wings further in the Caribbean.
Earlier, Roraima Airways Chief Executive Officer Gerry Gouveia had told Stabroek Business that the agreement with Dynamic was "a step in the right direction" given what he said was Guyana's efforts to increase its capacity to move passengers between North America and Georgetown. "Of course it's good business for the local private sector too," he quipped during a reception in Georgetown last Friday evening.
Dynamic Airways operates chartered and regular flights to several destinations across the United States and internationally. It owns a number of 767 aircraft. The airline also leases aircraft to airlines across the world. Last week Dynamic's Senior Vice President for Business Operations Tom Johnson visited Guyana on a familiarization tour where he held meetings with President Donald Ramotar and Tourism Minister Irfaan Ali.
Around the Web