As Guyanese, particularly African Guyanese prepare for the August 1 commemorative rituals and festivities to mark Emancipation Day, Patricia Helwig has long been immersed in her own ritual of creating African costumes and items of craft with which to help mark the occasion.
Last week, her establishment, Despat's Creative Craft in Prashad Nagar was a hive of activity. Costumes in a dizzying array of typically colourful African fabric and African dolls among other paraphernalia – in various stages of completion – could be seen waiting to be put on public display and offered for sale.
Since Monday, Helwig, known as Ms Pat, had set up her customary booth on Main Street Avenue, in the vicinity of Courts. Up until and perhaps even beyond August 1 she will be offering a range of African wear, craft and memorabilia along with snippets of information on African culture.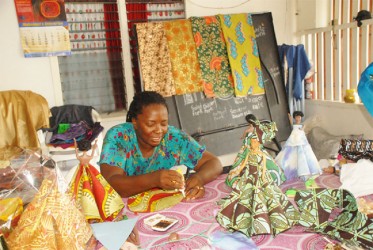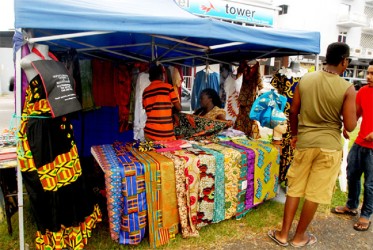 On Emancipation Day Helwig will move her stall to the National Park where her collection of clothing and craft will again be offered for sale along with various African dishes. She has sustained the tradition for more than 15 years; her multifaceted skills as a fashion designer, caterer, teacher and cosmetologist adding variety to the most significant African commemorative event on the local calendar.
Naturally, she is mindful of the financial windfall of the season. The local tradition has been that Guyanese African women use August 1 and, increasingly, the nearby days, to project their culture through creative designs in both dresses and head wraps. Helwig is acutely aware of what is, in effect, the short-term niche which this provides. That, however, has not made her unmindful of the social role she plays in helping to sustain a tradition while satisfying a passion for African designs and African culture as a whole.
Time and again the question has been raised about the potential for African fashion, foods and culture to become sustainable commercial ventures. The answer, it seems, reposes in the absence of any such establishments as part of the commercial landscape. If you peruse the work of some local designers and craftspeople, you are likely to find glimpses in their creative offerings. They are, however, few and far between; their scarcity dictated by the paucity of the market.
African clothing and artefacts are seasonal. It is at this time, Helwig said, that the telephone rings and at the other end her seasonal clients are hunting a few pieces for the season. She thinks – for the sake of much more than good business, she says – that it would be encouraging if there could be a cultural shift in dress preferences among African Guyanese women,
She speaks, for example, about the role that head and body wraps play in accentuating beauty. But these are popular only during the Emancipation commemoration period. Sometimes, she says, entire groups of African Guyanese women from various public and private sector institutions go to her to have the wraps done. That way, her work is marketed in various fashion competitions and other public places. In other instances workplaces set aside a day for African wear and she is contracted to outfit the ladies.
The most common response which this newspaper has received on the issue of keeping up with African fashion is "price." African fashion must compete with considerably less expensive Chinese garments which are also less difficult to manage.
Helwig concedes the point. Authentic African fabrics are imported from Africa at high costs – ranging from $2000 to $8000 per yard.
A complete outfit can cost from around $15,000 at the lower end to upward of $30,000 depending on the fabric and style selected and the size required.
Another local designer (who declines to be named) shares Helwig's view on the price issue and says that an argument can only be made for the popularisation of African costumes if a way can be found around the issue of price. "As it happens the Chinese have found a way of providing our women, particularly, with clothing that is sometimes attractive and inexpensive and even if much of it is of less than high quality we can wear it to the night club or we can wear it to church. It may not last forever but it's a matter of dollars and cents, isn't it?"
Helwig believes that the non-emergence of a local African fashion industry has much to do with "our way of thinking." She understands the process of acculturation that has created an affinity for western dress but recommends the durability of African fabric as much as the creative flexibility afforded by the facility for "mixing and matching" so as to make it more affordable.
The Emancipation season may be an important commercial event for Helwig, but this year she is going for broke; taking her creative bandwagon to next month's Guyana Festival and to GuyExpo later this year. She hopes as much for good patronage as she hopes that her efforts can set a trend.
Helwig is passionate about the uniqueness of her creations, which, she said, are designed to make the wearers resemble royalty; a sort of 'you will not see another person wearing this' attitude.
"I would like to see more persons embracing and showcasing African culture not only during our Emancipation celebration period but at other times during the year.
There is need for education in African Guyanese homes and in our schools," she said.
At various times of the year, Helwig provides training courses for individuals and groups in different facets of Home Economics including cooking and cake- decorating as well craft-related disciplines like floral craft and fabric design. She also makes her services available to the Ministry of Human Services.
She is, she said, especially proud of the fact that the most recent graduates from her training courses include a class of 16 differently able individuals from Ptolemy Reid Rehabilitation Centre.
Around the Web