Anetha Daniels says that she has good reason to be pleased with her trip to Guyana this time around. For several years now the Guyanese-born, London-based fashion enthusiast has been seeking to increase local demand for African fashion. For the past seven years she has been operating a modest outlet for African clothing and fabric, first at the Ocean View Hotel and subsequently in Charlotte Street, Lacytown.
Every year, towards the end of July, she 'raises her game,' stocks up on dresses, head wraps, male suits and shirts and throws the doors of her small establishment open to Guyanese wanting to make a 'seasonal statement' through their mode of dress. On August 1, every year, she makes a 'pilgrimage' to the National Park to offer a new range of apparel and fabric imported from Africa through London.
This year, she says, was "good for business."
When Stabroek Business visited the National Park on Friday, Anetha was the only vendor offering African fabric and costumes. One of her assistants appeared to be doing brisk business fashioning and fitting head wraps and on the whole the establishment appeared to be doing brisk business.
"We made a bit of money," she told Stabroek Business. Afterwards, she said that this time around she was pleased "for more than one reason." Business aside she said that she was pleased to observe that local interest in African clothing was extending beyond the "identity statement" that so many     African Guyanese seek to make particularly on Emancipation Day. She suggested that   Guyana may be approaching a stage that might make for more aggressive excursions into the commercialization of African fashion.
Stabroek Business's own observation has been that African 'costumes' have become particularly popular among both male and female church goers. Uniquely African entertainment events also attract guests clad in African costumes.
The demand for African clothing among Guyanese appears to be most pronounced among  women and Anetha believes that that  symbolizes a cultural assertiveness. She says that to become a viable business pursuit it requires "aggressive marketing," not only in the sense of popularizing the clothing but also in the sense of marketing cultural awareness among African Guyanese.
Setting aside the paucity of investment in African fashion  there is still the challenge of competing with a multi-billion dollar marketing outlay on 'brand name' western clothing and what in more recent years has been the proliferation of Chinese clothing on the local market.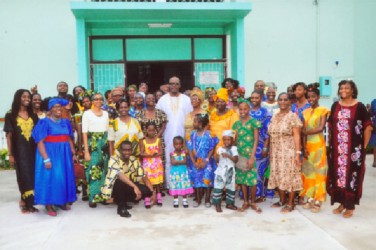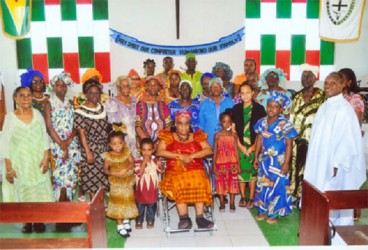 Anetha has herself been part of fashion events with an African orientation in both the United Kingdom and Guyana for more than thirty- five years though she points out that there has not been a really strong connection between the attractiveness of the fashion and its greater commercialization. When she first began to market clothing and fabric in Guyana in 2007 her clientele was predominantly older Guyanese. These days, she says, there is a greater interest in African fashion among younger people. She had intended that Anetha's African Styles, created at the Ocean View Hotel in 2007 then relocated to Charlotte Street, Lacytown, serve as a kind of outpost, a sort of pioneering trading post, which, perhaps, might be consolidated by other similar, perhaps larger commercial ventures. Up until now, that has not happened. She says that it is not as if Guyanese clothing designers and vendors have ignored African fashion altogether but that the realities of the market have compelled them to embrace African fashion only as a relatively small part of a much broader range of fashion offerings.  Costs too are an issue. In the western dress culture we live in an age of extremes -high-fashion, high-priced clothing, on the one hand and cheap 'threads' on the other. Much of the fashionable clothing   is manufactured from rich, even exotic fabric and the finished product can be beyond the reach of the working person,  however identity-conscious he or she may be.
This year Dashikis were being sold at prices ranging from $7,000 to $20,000. The asking price for a pair of wedding costumes was $40,000. Traditional African prints, meanwhile, were being sold at around $4000 per meter, heavy Anchar Waxed fabric at around $3,500 per meter and embroidered silk at $3,500 per meter. Kaftan dresses were being sold for around $10,000 each.
Anetha says that there are times when persons would want an item of clothing or a piece of fabric but would be unable to afford it. "As far as possible I work with them," she says.
London has long been an important western hub for African fashion and much of her material is purchased from traders on Liverpool Street in Central London.
The owners of these stores import material from across Africa.  She designs and sews some of the clothing that she sells. Two other London-based seamstresses work for her. She is upbeat about her venture in Guyana. She says that people are requesting fashionable clothing including wedding suits. She is cautious about expansion preferring, it seems, to go where her present course takes her.
Around the Web