Co-owner of the fast-rising Pandama Retreat & Winery & Centre for Creative Arts Tracy Douglas has been nominated as one of 10 finalists in the United Nations Conference on Trade And Development (UNCTAD)/EMPRETEC Women in Business Awards (E-WBA).
Douglas joins Linden-based craftswoman Irene Bacchus-Holder and shipping company owner Lucia Desir-John who were nominated in 2008 and 2010, respectively, along with 9 other female entrepreneurs from developing countries for their accomplishments in their respective fields of business.
As with her predecessors, the recognition allowed Douglas to travel to a special UNCTAD forum in Geneva in October where she was afforded the opportunity to connect with other nominees whose business pursuits have won them attention in their respective countries. The women have also been recognised for their use of their respective pursuits to serve as examples to communities and more particularly to disadvantaged women. Douglas was particularly recognized for her "innovative business techniques."
Douglas is known in local creative circles for her work in art and craft—both as a teacher and as a creator in her own right. The American-born Douglas and her Guyanese-born husband Warren have also realised notable success in the creation of the Pandama Winery and the successful marketing of their locally manufactured wines, a development regarded as noteworthy in as generally sluggish local manufacturing sector.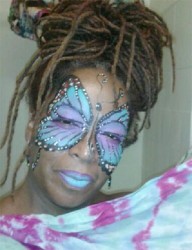 Pandama, as it is called, produces fruit wines, vinegars, fruit soaps, scrubs and butters, art and art wear. Its current collection of wines, takes full advantage of the range of local fruit. Accordingly, flavors include pineapple, jamoon, antidesma (called Aunty Desmond), noni, cherry, cashew apple (malacca pear), duku, carambola and sorrel.
Periodically, Pandama also offers pulse – a libido enhancement tonic wine made from barks native to Guyana and the Amazon Basin. Its line of all-natural health and beauty products include a series of fruit infused soaps created from essential oils, oatmeal, coconut oil, and cucumber. Neem insect repellent/moisturizer, Blackwater body butters and sugar scrubs are now being marketed under Douglas's Blackwater label. Douglas also creates colourful tie-dye garments as well as paintings on paper, canvas and other surfaces.
Pandama has also been recognized for its support for independent farmers from whom it purchases fruit and for community projects in Guyana.
Pandama products have also penetrated regional and international markets.
The E-WBA is usually granted to women-owned businesses that have benefited from the business development services of the UNCTADs EMPRETEC programme for the promotion of entrepreneurship which operates in 36 countries.
The 2014 edition marked the 4th edition of the E-WBA and is in line with the World Investment Forum's theme, 'Investing in Sustainable Development'. The awards ceremony highlighted the key role that women entrepreneurs have played in contributing to sustainable development through job creation, innovation and strengthening local capacity. Two special awards were also given for green and social entrepreneurship.
The 10 finalists came from Africa, Latin America and the Middle East.
Around the Web