Bill Shankley, manager of Liverpool Football Club in the English Premier League, was once asked whether a game his team was about to play was a matter of life and death. He replied with no hint of humour or exaggeration whatever, "Well, yes, but it's much more important than that." That about sums up what is going to take place soon in Brazil.
The best thing I ever read written about soccer, one of the best pieces about any sport I have ever read, was an essay called 'Endgame' by an American, Adam Gopnik, on the World Cup of 1998 held in France. Before he saw the World Cup that year Gopnik had known hardly anything about the game.
Early on he makes the point, with which I have always secretly sympathised, that it is hard to make the case for soccer as an entertainment or a spectacle. The usual score lines – 1-0, 0-1, 0-0 (penalty shoot-out), 2-1, 1-1 (penalty shoot-out), 1-2, etc – tell part of the story. In soccer the defence has too big an edge to keep the contest vibrantly interesting. It is easier to defend than to attack since it is always easier to break a sequence than to build one up. Soccer is a game in which this principle reigns supreme.


Because this is so the premium on drawing a foul, especially in the penalty area, is tremendous – there is a huge disproportion between the penalty for such a foul and the reward – and therefore playacting fouls disfigure the game. A player takes the ball into the penalty area, gets breathed on hard, collapses as if sniper-shot, writhes in agony, demands morphine while teammates gather and lament the tragic waste of a young life – and more often than should be he is rewarded by the referee for all this nonsense.
Adam Gopnik describes the tedium he feels as he watches the first ten days of 1998 World Cup matches. He sees the Brazilian star, Ronaldo, make a nice move, leaving a couple of Scottish defenders looking foolish. In the end Ronaldo fails to score yet that single move is described by commentators the next day, Gopnik observes, "as though it were the whole of the Peloponnesian War or a seduction by Casanova." Lovers of the game seem to him to have got the significance of what is going on completely out of focus and out of proportion. He watches Denmark play Saudi Arabia (1-0); Croatia play Japan (1-0); Nigeria play Bulgaria (1-0) and altogether he watches sixteen matches not much different. He sees waves upon waves of slow-motion attack gradually build up and inevitably dissipate. There are what seem to him great stretches of numbing boredom and tedium.
After a while he spoke to an English friend who asked him how he was getting on looking at the Cup. "It's a bit – well, don't you think it's a bit lacking in entertainment?" There was a pause, then his friend asked him reprovingly "Why would you expect it to be entertaining?"
That was the clue that set Adam Gopnik on the right track in his search to find the soul of soccer. In a new frame of mind, he watches a desperate, double-overtime game between an overmatched Paraguay and overwhelming favourites, but very nervous and tentative, France. "The Paraguayans, who looked worn-out from stress, essentially surrendered the idea of scoring, and kept dropping back-kicking the ball out, heading it out, willing it out, again and again. It was obvious that their desperate, gallant strategy was to force a nil-nil draw, over a hundred and twenty minutes, and then "go to penalties," the shootout at goal where anything can happen and anyone can win. The nil-nil draw wasn't a "result" they would settle for; it was everything they dreamed of achieving. When the game finally ended, as Laurent Blanc stumbled a ball into the Paraguayan net, what was most memorable was the subdued triumph. The French celebrated, but they did not exult; the Paraguayans cried – really cried – but they did not despair. They did not seem ruined or emptied out, as American losers do. They seemed relieved. The tears looked like tears of bitter accomplishment. We knew we were going to lose, the faces and the back pats said, but, hey, didn't we hold it off for a while? ("Heroique," murmured the French commentator)."
Adam Gopnik continued, "The next morning, I slipped in a tape I'd made of the fifth game of the NBA finals, for purposes of comparison. It was a French broadcast, and the commentators announced that the game was a test of truth – une epreuve de verite – for the Utah Jazz. To my surprise, I was, after a week of starvation, used to the austerity of soccer scoring. All those basketball points seemed a little loud, a little cheap. Points coming in from left, from right, cheap points, inspired points, stupid points – goals everywhere you looked, more goals than you knew what to do with, democratic goals, all leveled and equal. It was too much – like eating whipped cream straight."
A few nights later Adam Gopnik watches the Argentina versus England match to see who will go to the quarter-finals and revelation is complete. Entertainment is the furthest thing from his, or, he realizes, anyone's mind. This is something much more gruelling, much more momentous, something to be etched on the soul.
"The match started off with two typically exasperating soccer events. After only five minutes, David Seaman, the English goalkeeper, lunged for the ball, and an onrushing Argentine stumbled over him. Penalty and, inevitably, a goal. Then young Owen got tripped. He acted out the death scene from Camille and drew a penalty himself, which was knocked in by Alan Shearer, England's captain. A few minutes later, Owen raced half the length of the field – really sprinting, huffing – mesmerizing an Argentine defenseman, who kept moving back, back, defeated in his own mind, and then he sent it in: 2-1, England! With fifteen seconds left in the half, Argentina got the ball, executed a jagged, pinball-quick exchange of passes, and, shockingly, the ball was bouncing in the net, and the game was tied.
"At the start of the second half, David Beckham was expelled from the game, leaving England a performer short. Though England scored on a corner, the goal was ruled out by the referee for a meaningless, barely visible (but undeniably real) elbow. Nothing happened in thirty minutes of overtime, and the game went into the self-parody of soccer: a series of penalty kicks. With England needing only one more to tie, David Batty, of Newcastle, stepped up, and, rushing his shot, fired it right into the diving goaltender. The Argentine side rushed out into the pitch, weeping with joy and exhaustion. The Englishmen were also weeping, gutted with grief and exhaustion."
And so it was that Adam Gopnik saw sport in a new light. It was certainly not typically American sport which is all action, instant attack and counter- attack, lots of scoring, scoring all the time, runs and goals and outs galore, time spent without excitement scorned as time wasted, enactments to be vividly enjoyed completely out of the normal run of existence. World Cup soccer, Adam Gopnik found, was something else entirely.
"Soccer was not meant to be enjoyed. It was meant to be experienced. The World Cup is a festival of fate – man accepting his hard circumstances, the near-certainty of his failure. There is, after all, something familiar about a contest in which nobody wins and nobody pots a goal. Nil-nil is the score of life. This may be where the difficulty lies for Americans, who still look for Eden out there on the ballfield. But soccer is not meant to be an escape from life. It is life, in all its injustice and tedium: we seek unfair advantage, celebrate tiny moments of pleasure as though they were final victories, even score goals for the wrong side."
Another World Cup starts very soon. Be warned. It will not be entertainment. It will not be an escape from life. It will be life and death themselves. Let us savour every moment.
Comments
CARACAS/HOUSTON (Reuters) – Venezuela's unraveling socialist government is increasingly turning to ally Russia for the cash and credit it needs to survive – and offering prized state-owned oil assets in return, sources familiar with the negotiations told Reuters.
By Carl Bildt CHICAGO – We are now in the final days of the industrial age.

During Men's Health Week, the man/woman in the street were asked to speak on their lifestyles and what they do to maintain their health or to encourage their significant others to lead healthy lifestyles.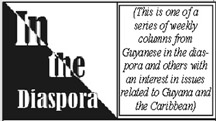 By The Caribbean Voice There are no reliable statistics on the amount of persons engaging in the use of illegal drugs or those described as addicts.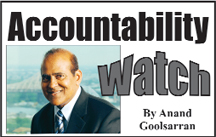 In last week's article, we referred to the two recognized methods of accounting for costs relating to the exploration, development and production of crude oil and natural gas: the "successful efforts" (SE) method and the "full cost" (FC) method.