Guyana's special landscape, its lush forests, rolling savannahs, white sand plains, vast muddy rivers and that yawning Atlantic Ocean lapping at the edge of Georgetown, plays a role in shaping the individual Guyanese.
Our landscape makes us. It shapes the national character. There's something about our natural environment that molds our human nature.
We develop this unique ability to tackle life, to reach for our dreams, to conquer the odds of this world. Inherent in the Guyanese character is this amazing resourcefulness, the ability to overcome obstacles, initiate solutions, grasp opportunities with full zeal, and achieve our dreams.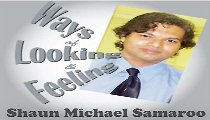 We refuse to fall through the cracks. Instead we find a way to escape the under-development, poverty, social morass and public demoralization that bedevil our land.
This characteristic of the Guyanese person sees the nation produce great sons and daughters, both at home and throughout the world.
We don't have space here to list the astonishing achievements of Guyanese. Now the US is seeing on display Lisa Punch's homegrown musical talent. Shivnarine Chanderpaul continues his run to the top of cricket history, and we could see his 30th Test century this week in Barbados against New Zealand. Nicolette Fernandes conquers great heights in Squash, the world sport. Oh, there's a mighty long list of Guyanese, born and bred in our villages and towns and city, scaling astonishing heights on the world stage.
Lurking in the breast of each Guyanese is this potential for rising. Indeed, it's the single most frustrating thing about being Guyanese: we know what we're capable of, but when we look across the land, we see so many fellow citizens in a bad state.
One feels a profound sadness encountering young Guyanese in villages across the land. If we could inculcate the simple lifestyle habit of reading literature, we would see that inherent Guyanese potential become resounding reality for every soul of this nation.
Too many Guyanese while away their lives in rum shops, liming at street corners, or wasting hours and hours doing absolutely nothing, just sitting there being idle.
As much as we want to preserve this national characteristic for relaxing and taking it easy, for it's good for the soul, we want to lift our culture, the way we are being, to higher heights.
We must campaign for a literacy programme across this country that gives the gift of love of knowledge to every Guyanese citizen: our goal must be to inculcate, cultivate and nurture Guyana into a Knowledge Society.
In the meantime, we want to overcome our penchant for complaining.
Nowhere in this country does the citizen encounter a culture of solution generation. Everywhere the Guyanese looks, he or she encounters complaints, criticisms and that national bad habit of scapegoating. In our national media, at Parliament, City Hall, Government, from political parties and national organizations, we see constant complaining, loud cussing out and crass language, full of plosive harshness.
The individual Guyanese gets drowned out in this cacophony of verbal noise, with groupthink dominating how our national newspapers, TV stations, radio and even online forums approach discussing national issues.
Even our national poet and literary icon, Ian McDonald, wrote recently of the depressing groupthink that fuels negativity and crassness in our national media.
The individual Guyanese person eventually learns to ignore the social noise, and moves on to build a personal space that works.
Of course, our first option is migrating to societies that provide fertile social ground to cultivate and nurture that inherent Guyanese potential for self-development. We see the result in Lisa Punch, who told her story on international TV.
We see the result of this special Guyanese character of rising in our entrepreneurs.
Today, the nouveau riche dominate the Private Sector, and own wide swaths of Georgetown. A new titan class emerged in this country over the past 25 years. Old wealth gave way to new, hardened souls who learned their business acumen on the streets, who accumulated their capital while walking the edge of legal activities. Many of the new, respected business owners made their startup capital through illegal business, including smuggling, narcotics and corruption.
Under the Desmond Hoyte-administration of the late 1980's, as the national economy got freed up and liberalized, these daring, adventurous, imaginative, brilliant entrepreneurs started integrating into the national economy. Today, many of them own legal businesses, and continue to transform the country's skyline, erecting modern buildings and changing the architectural character of Guyana.
While we regret the collapse of the Cooperative aspect of the Guyanese economic model, we celebrate the triumph of the Private Sector. In the vision of a Cooperative Republic, we sought to employ a new economic model, based on the tripartite sectors of Cooperatives, Private Sector and the State.
As we stand today, we've seen the failure of two legs of our economic model: Cooperatives, and the State. Indeed, the one big industry in the State's hands, sugar, today struggles under immense pressure.
The Private Sector has triumphed, with astounding success, transforming the Guyana socio-economic environment, fuelling national growth.
To overcome the State economy that so long strangled Guyana's socio-economic development, the Private Sector resorted to two things to succeed: participate in the national culture of corruption that took root during the days of the State dominating economic activity, and gathering capital from private economic activity that flouted the stifling economic laws of the country.
The new playing field, created when we started liberalizing our laws, freed up the Guyanese spirit for initiative, resourcefulness and entrepreneurial brilliance to take command of the economy. And today we see the Private Sector fueling development.
The State fails to cultivate the national social space into a modern society. Private Sector firms are making the difference, with 21st century-style buildings now a feature of the Guyanese skyline across the country, from Charity, Essequibo, through Georgetown, to Skeldon, Berbice.
We've got a lot of work, for example, to curb the culture of corruption that dominates the Private Sector's relationship with the State, but in our entrepreneurs and the Private Sector, we see that indomitable Guyanese spirit for rising.
Guyanese, cultivated in the vast, wild natural beauty of their homeland, developed an inherent characteristic to rise through harsh odds.
Comments

We now mark the fifth anniversary of this column in this exemplary, nation-defining newspaper, and it's been an inspiring, beautiful journey.

We experience life, see our days, hear emotion and meaning when we interact with others, according to our presupposition, that unconscious window through which we see the world, each person's point of view unique, each one's frame of reference of a different shade than any other.

Our nation's main wealth lies in the human capital of Guyanese; the skills, talents, knowledge, energy, initiative and creativity of each individual.

So easy it is to fall under an oppressive cloud in this society, focused on inconsequential stuff, ignoring the beauty of our human potential.

Word on the streets is that people across this nation react with caution and pessimism to the political backdrop existing in the country.