Wilderness Explorers familiarisation trip
British High Commissioner, Andrew Ayre recently met members of Wilderness Explorers 11th annual familiarisation trip to Guyana, a release from the British High Commission said today. The visit was combined with Trinidad and Tobago, and comprised of 10 operators. Working closely with the Guyana Tourism Authority, the group visited Georgetown, Cara Lodge, Karanambu, Surama, Iwokrama River Lodge, Atta Rainforest Lodge, Rock View Lodge, Rewa and Kaieteur Falls.
The release said that throughout the trip there were outstanding wildlife sightings including giant anteaters, harpy eagle at the Canopy Walkway, sloths, giant river otters at Rewa and even the golden-handed tamarin.
This British High Commission photo shows the team with the British High Commissioner and local operators.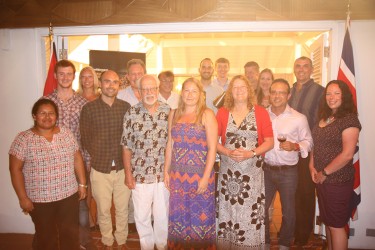 Most Read This Week