The lifesaving course was held at Camp Ayanganna from March 25 – 27 and facilitated by the US Embassy's Military Liaison Office and members of the Florida National Guard.
According to a press release from the US Embassy, the hands-on training targeted medical first responders and saw exchange of best practices and tactics to provide health service support for armed forces engaged in operations.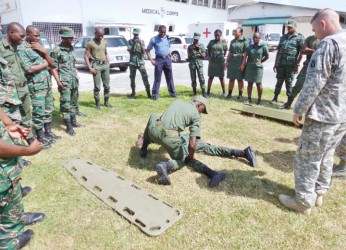 The release said participants engaged in discussions and demonstrations on contemporary combat life saving techniques, first response, self-aid, and buddy aid.
Both the United States and Guyana were able to benefit from the exchange by sharing lessons learned and methods to better support natural disaster response and humanitarian assistance operations, it added.
The course training materials left over from the Tactical Life Saver training will be used again in the future to train additional members of the GDF Medical Corps.
This course, the release said, is part of a longstanding relationship between the GDF and the Florida National Guard through the State Partnership Pro-gramme (SPP).
Members of the Florida National Guard have had several opportunities to share skills, experience, and information in the context of bilateral exchanges with Guyana to enhance military capacity and capability, it added.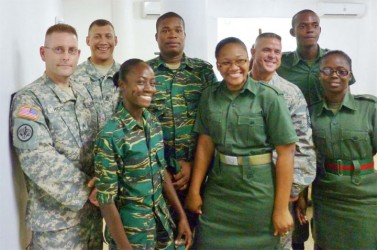 Among the activities undertaken through the SPP over the years are an Officer Candidate Deve-lopment School Visit, a Water Purification Assess-ment, and performances and subject-matter ex-changes by a US Military Band.
Other programmes include integration of counter-illicit trafficking into GDF training, assessments of tactical communications, search and rescue skills and techniques, medical waste management, and emergency disaster management planning, the release said.
Around the Web