AFC MP Moses Nagamootoo has blamed a lack of proper consultations between the government and opposition for a budget that he said is big on numbers but small on content, including a lack of accountability for spending.
"It is disappointing that whilst we are making allocations of slush funds for jobs that this government cannot say upon what scientific or rational data job creation is planned, and areas targeted," Nagamootoo told the National Assembly on Monday.
He said that instead of creating jobs, money from the Consolidated Fund is being funnelled into "dead" bank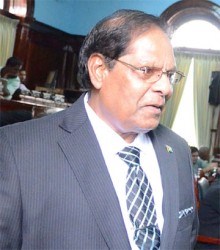 accounts. Nagamootoo stated that National Industrial & Commercial Investments Ltd (NICIL), the Guyana Geology and Mines Commission (GGMC), and the National Frequency Management Unit (NFMU) held on to large amounts of funds for which there needs to be accounting.
However, he said that the National Assembly had a responsibility to be guardian of the national purse, while opining that disclosure needed to happen simultaneously as the budget allocations are read.
Nagamootoo said that while the government was focused on the size of the $220 billion budget, it had little to do with the actual content within. He said that Guyana had jobless growth and unemployment statistics are still unavailable.  "What is Guyana's jobless statistics? This is the best kept national secret," he declared, while noting that according to tradingeconomics.com Guyana's unemployment had remained at 21% from 1980 to 2011.
Nagamootoo stated that budget allocations should be done on a percentage basis which would reflect real growth and development. He said that in 2014 while both the health and education ministries received more money, on a percentage basis "education slumped from 15.7% in 2009 to 13.6% and health from 9.9% to 8.5% in 2013."
He spoke about Guyana's external debt, which has ballooned from US$719 in 2007 to over US$1.25 billion in 2013. Nagamootoo said these figures "at face value, would indicate poor management of our economy, failed stewardship. Simply put, for several years our leaders have failed to spend within our means, which is what a balanced budget is all about.
"Not being able to balance the budget has led us deeper into the vicious debt cycle. We learned that there are three ways to get money: steal, beg or borrow. In Guyana, our prudent government has been doing all three. By restraining wages and pensions, we virtually steal from the workers and pensioners. We beg for grants; and we continue to borrow."
Instead of prudent fiscal management, Nagamootoo accused the government of allowing money "to be squandered in poorly executed projects or for expired drugs that we routinely dump, or frittered away in private purses through bribery and graft."
He called out the various government parliamentarians for "cheap" tricks when they attempted to rationalise the $6 billion subsidy for the sugar sector, saying that instead of being accountable and explaining where the previous amounts of money had gone in years past, government members instead want to equate the asking for accountability with "ethnic cleansing" of the industry.
He said that while the AFC does not want sugar workers to suffer, the government has to be held accountable for the "bungling" of monies allocated in the past.
He stated that the government often highlighted issues without providing a comprehensive plan to get the job done. "Government laments about the garbage situation, but it has yet to lay before this House the promised solid waste law that could deal comprehensively with this nuisance," Nagamootoo stated.
He said the recommendations made by the AFC have fallen on deaf ears, while adding that the budget was not reflective of any of the various stakeholders. The Federation of Independent Trade Unions of Guyana (FITUG) had asked for an increase in personal income tax allowance and an adequate increase in old age pensions but to no avail, he said.
Nagamootoo said the AFC did not hold a negative view of the budget as a whole but it wished that more money was going towards the social sectors; education, health housing, water, the environment and security.
Around the Web