More than 35 members of the Coast Guard, Guyana Revenue Authority and the Customs Anti-Narcotics Unit have earned certification in International Port Security, after completing a US Coast Guard technical course on International Ship and Port Facility Code.
According to the US Embassy, the course, held from March 23-28, aimed at reducing risks to international and US ports and ships and facilitating secure maritime trade globally.
Members of the local agencies who participated in the training explored issues such as the role of the Maritime Administra-tion Department (MARAD), ship security, surveillance and monitoring, cargo handling supervision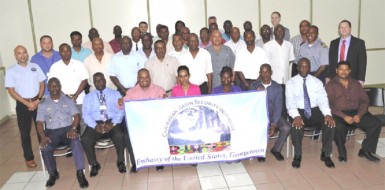 and the best practices from other locations, a press release from the embassy said.
"These reciprocal visits are designed to strengthen Guyana's port security system and global maritime security, while enhancing our mutual interest in shipping between the United States and Guyana," the release said.
The course complements a course offered in February that addressed piracy and other aspects of port security. Together these engagements form part of a broader US Coast Guard training and assistance programme for Guyanese port security officials being carried out in partnership with MARAD.
At the close of the training, participants took part in an IPS graduation ceremony on March 28. Guyana Coast Guard Commander Otto Porter remarked that the programme has been mutually beneficial, specifically citing the value of having representatives from multiple stakeholders learn how port security processes can be integrated among a variety of personnel and agencies.
According to the press release, the cooperation between the US and Guyana on port security takes place within the broader and more comprehensive regional security partnership known as the Caribbean Basin Security Initiative (CBSI) which was announced by President Obama at the 2009 Summit of the Americas and jointly launched with  Caribbean countries in Washington in 2010.
The CBSI includes a wide array of programmes addressing maritime/aerial security cooperation, law enforcement capacity building, counter-narcotics efforts, border/port security, firearms interdiction, crime prevention and at-risk youth.
Around the Web