The revetment project at Cane Grove main access road, Mahaica, Region Four is progressing smoothly with the contractor completing around 40 percent of the task so far, according to the Ministry of Public Works.
In a release yesterday, Khiraj Bisesar, Project Engineer, said the revetments are crucial to this agricultural hub.
"Heavy traffic and canals that are on either side of the carriageway have resulted in the saturation of the sub-base of the road thereby causing continuous slippage of the carriageway," Bisesar explained  after he accompanied Minister of Public Works Robeson Benn on Saturday for a site visit.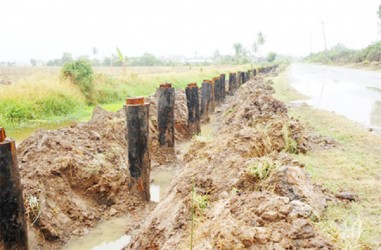 He said that Benn was pleased with the progress so far. This road provides the only access to and from Cane Grove.
The release said that the contractor H. Nauth and Sons are "driving piles to accommodate the revetment that will follow along with 1 inch diameter steel rod as tie back to anchor piles which will gave more stability to the revetment works."
The $160M project was signed on December 20, 2013 and is expected to be finished in August, the release added. There is a defects liability period of six months.
Around the Web