A Tuschen businessman who was brutally stabbed on Sunday last at a wedding reception, risked his health chasing and capturing his assailant minutes after the ordeal, only to have the man leave the village after being placed on $10,000 station bail.
Three hours after Fazaal Ally, 40, visited a wedding reception in the village, a man walked up to him under a tent and asserted he knew him. Ally said he responded in the negative and using expletives, told the man, who had been consuming alcohol, to move away from him; the man moved.
Ally explained that he was returning to his car some 20 minutes later, after it had stopped raining, when the man, "…come from the back and lash me with a bottle in me head." Ally said the bottle broke on his head. "I spin round after I get lash," he recounted, and "… the man start pull jook in me…"
Ally sustained a gaping wound to the left side of his neck and the right corner of his mouth, in addition to the laceration in his head. "He hustle fuh run away," Ally said, adding that he jumped into his car with another villager and gave chase.
The man failed to escape the grip of the villager in the car with Ally, and was subsequently handed over to the police at approximately 02:30 hrs.
"When the nurse dem push down dem hand to clean out it [the laceration on Ally's neck]," his wife said, "was a deep hole almost three inches."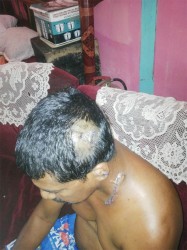 She told this publication that the doctors informed her that the bottle barely missed a blood vessel in Ally's neck. "He has internal stitch and external stitches," she added.
Ally said the police officers, who were amazed at his actions, sent him to seek medical attention before taking any statement from him. "A big towel… all me jersey well soak with blood," Ally said.
He said he returned to the police station after he was attended to by doctors at the Leonora Cottage Hospital, only to hear his statement could not be taken because of his condition. Nevertheless, Ally said, he returned to the Parika Police Station at 9 am on Sunday, where a policeman took a report and sent him to the Criminal Investigation Department of the station, where a second report was taken.
He said he was told the police would later take a statement from him before his assailant was passed through the courts.
Ally's wife told this newspaper that she called the Leonora Police Station yesterday and alerted them of the word around the village, that her husband's assailant was seen leaving with a packed bag in a silver Toyota Raum car. The irate woman said they told her that the man was on $10,000 bail and that he was free to go wherever he chose. "How could a man stab somebody and receive $10,000 bail?" the woman asked.
"Right now we asking for justice in this case," Ally told Stabroek News. "… Because this is a serious matter. We call on the commander and the crime chief to look into this matter. We need assistance from them."
Around the Web