–his mom testified
Rosanne Cush, the mother of Charles Cush, the number two accused in the Sade Stoby murder, yesterday testified that when she had seen her son on the day 9-year-old Sade was last seen alive, his skin was wet.
Charles Cush, 21, and Jevon Wharton, 23, are on trial before Justice Navindra Singh and a mixed jury for Sade's murder in November 2007 at Barnwell North, Mocha, East Bank Demerara. The duo were 14 and 16 years old respectively at the time of the murder.
Taking the stand, Rosanne Cush said her son Charles had left home around 9 am on November 2, 2007 to drop his sister at "big tree". He returned home, but he later left their home to collect "some pone from my sister", she said, adding that he had returned with the pone.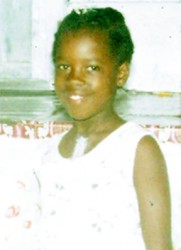 Senior State Counsel Judith Gildharie-Mursalin then asked if he had left the home a third time and she said yes. "He asked me if I want a piece of sugarcane and I said yes and he left," Rosanne replied. Around "minutes to four," she said, she saw him on the road and his skin was wet; he was wearing a pair of pants. "I asked him where he was and he said he was swimming," she said.
Rosanne said she told him to go home and change his wet clothes and return to her. She said the next day they both went to church to clean the building but she sent him to her sister's house. That afternoon, she said, she went to her sister's house, but he was not there. She said she was told that he left to her son-in-law's mother's house in Sophia. Charles did not return home that night nor the next night, she recounted.
Asked when he returned home, Rosanne attested that, "he return home on Monday but on his way he got turn back." She explained that she saw her son and Sade's relatives on the road and then they all got into a bus to go to the Providence Police Station.
Aggressive
Under cross-examination by Attorney George Thomas, who is representing Charles, Rosanne said Sade's big brother had started to examine her son's penis while they were going to the station.
She said his underpants was pulled down and "I tell them why you don't leave that for the police and he got aggressive and said he would put me out of the bus but the big man calm him down."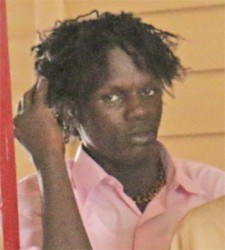 Asked if Wharton and Charles were friends, she replied in the affirmative, but said she had never seen the two of them together at her house.
Meanwhile, Charles Cush's statement was admitted and marked as an exhibit, following an application by Gildharie-Mursalin.
Cush, in the statement, said he had been riding home when he met Sade in the company of Wharton also called 'Jagon', 'Carlos Hubbard' and 'Tabon'. He said Sade had asked him to pull a stick of cane but "I pass them and ride away."
He stated that the next day he was told by his niece that Sade was missing and then on Sunday he heard that her body was found.
Under cross-examination by Thomas, Corporal Johnny told the court that Cush had never made any declaration in his statement about Sade suffering injuries. Asked if Cush had ever made mention of anyone having sex with Sade, he replied no.
The defence attorney then asked the policeman if Cush had ever mentioned the words: "buggery, sex or sodomy" when giving his statement. He again replied in the negative.
Thomas and Attorney Raymond Alli, who is representing Wharton, then cross-examined Constable Devon Bowen, the arresting officer. Bowen was unable to answer Alli's question as to who he had received the information from as regards arresting Cush and Wharton.
It was put to him that it might have been Sade's grandfather, who was a policeman. But Bowen said he had received information from civilians and acted on it.
Thomas also asked him if he found the other side of a slipper which was seen at the crime scene and he responded in the negative.
While giving his evidence in chief, Bowen had stated that he had arrested the men and acting on instructions carried them to Dr Mohan Persaud, for a medical check. He said Persaud checked their penises and other parts of their bodies and issued a medical certificate of his findings.
Later in the day, Assistant Superintendent of Police Elston Baird took the stand and began to describe the crime scene during his evidence in chief.
Baird said he had observed Sade's body lying in a drain, still clad in her school clothes. Her body was face up, and her head, facing an eastern direction, had injuries. Baird said he had observed that her legs were spread apart.
Before he could continue, Alli objected to having Baird give that evidence in the presence of the jury. Justice Singh ruled in Alli's favour and the jury was told to leave the room.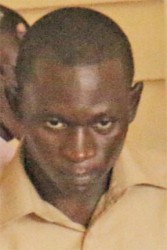 On Friday, November 2, 2007 Sade left school after it was dismissed and headed for her Barnwell, North Mocha home but never arrived. Two days later her body was found a short distance away from her home by her father Eric Stoby and her brother Karlon Stoby.
Sade's mother Sharon Berry, who was the first witness for the prosecution, had testified that a report was made to the police on Saturday after her daughter did not return home.
She recounted that her husband, who was working in the interior, had arrived home on the Sunday and he joined the search with other family members. He later called and told her something and she went to Sixth Field where she saw the body of her daughter. She appeared to be dead and her tights and underwear were close to her body, Berry added.
Gildharie-Mursalin in her opening address had told the court: "all we have to prove is that they [the accused] had intentions to rape her.
We don't have to prove intention to kill. This was a felony murder. We only have to prove intention to rape."
Gildharie-Mursalin said a post-mortem examination done on November 5 by Government Patholo-gist Dr Nehaul Singh gave the cause of death as asphyxiation due to submersion, compounded by blunt trauma to head.
She told the court that the deceased's body was bloated and had haemorrhaging to the head and chest.
She said there was thick mud in her trachea and her stomach. "Her intestines were protruding through her anus; there was blunt trauma to the head, at least four and there was bruising to her vagina indicating sexual activity just before her death," she said.
The trial continues today with a voir dire.
Around the Web