-increase in transparency, accountability among plans
Mark Lyte, Deputy Head Teacher of Tutorial Academy Secondary School, has replaced Colin Bynoe as president of the Guyana Teachers Union (GTU).
The change in the union's head became imminent last Saturday when preliminary results from the union's elections were made available. Lyte's presidency of the union became official yesterday evening during an installation ceremony.
The results also revealed that Lyte copped the most votes for the union's vice-president post. Since Lyte cannot hold two positions, it was decided last evening that Lesmin Collins, who secured the second highest number of votes for the vice-president position, would take the post.
Lyte, who has served as a teacher for 18 years, holds a Master's in Education, a Bachelors in Social Studies, an Associate Degree in Theology,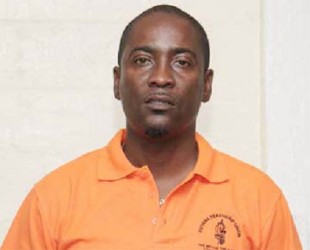 a Management Certificate from the Ministry of Education as well as his Trained Teachers Certificate.
During an interview with Stabroek News yesterday he expressed ambitions to increase the level of transparency and accountability in the union's operations. He also shared hopes of improving the level of professionalism with which teachers dispatch their responsibilities.
Further, he said that he wants to make the union more visible to teachers, and ensure that they are represented wherever they are located.
Lyte also said he wants to work towards arrangements which will see the teachers receiving higher salaries, and being provided with all the resources they need to do their jobs.
Also securing executive spots are Coretta McDonald, who was re-elected as General Secretary; Donette D'Andrade, Vice-President for Berbice; Hazel Pyle, Vice-President for Demerara; Jacqueline Douglas, Deputy General Secretary and Samantha Allen, Treasurer.
Meanwhile, Julian Cambridge and Desire Van Lewis retained the Second Vice-President and Vice-President for Essequibo posts, respectively, as there were no challengers for these positions.
McDonald told Stabroek News earlier this week that the results come after an almost three-month-long voting process, and after 3,000 of the GTU's nearly 7,500 contributing members returned their ballots.
The GTU utilises the postal service to send ballots to the various schools around Guyana. Once the ballots arrive at the schools, the head teachers are responsible for ensuring that every contributing union member receives one.
Around 3,000 of the GTU's nearly 7,500 contributing members returned ballots cast during elections, which started in February and concluded in April. After ballots were cast school heads would have collected them and returned them via the postal service.
They were counted on April 16.
McDonald said the entire elections process, including the counting of ballots, was handled by an Elections Officer. This official, she explained, was selected from a pool of persons who responded to a notice expressing the need for such an officer.
McDonald said that several persons responded to the notice, and one was chosen after examining the experience and qualifications of the lot. Once chosen, she continued, the Elections Officer has no personal contact with any of the persons contesting elections, although the candidates were allowed to write letters to communicate with the officer.
Low voter turnout
Lamenting the relatively low number of votes cast, McDonald said the posture of teachers toward GTU election mirrors the attitude of Guyanese toward general elections in many ways. Many teachers, she explained, are not convinced that their vote will make a difference and therefore opt not to vote, even though they are provided with ballot sheets.
At the same time, some votes were not counted because they did not get to or from schools in time. McDonald noted that it takes the postal service a while to deliver mail, especially to outlying regions. On one occasion, she said, it took the post office 16 days to deliver registered mail to a teacher in Sophia.
Teachers in outlying areas, including Kato in Potaro-Siparuni, the Rupununi, and theUupper Mazaruni, suffer a lot because mail is only sent into these areas once or twice every two weeks or so. And, even when the ballots reach the villages, they are dropped at a central location and it is left to the teachers to access them. This has been an area of great concern for the GTU, McDonald said, before adding that the union has been working with the post office to improve the method used to disseminate the ballots.
Around the Web