-Scotiabank, Habitat for Humanity plan talks on funds for rebuilding
Following the Sunday morning fire which destroyed the home of stabbing victim Tamika Miller, talks are planned between a local bank and a relief organisation to mobilise funds for rebuilding.
This is according to Marketing Manager of Scotiabank Jennifer Cipriani, who told Stabroek News that the bank is currently reviewing the case with Habitat for Humanity Guyana to see how the organisations could offer support to the woman.
Earlier this month, Tamika had received aid from the two bodies along with Courts Guyana for the renovation of her Goed Fortuin, West Bank Demerara home. The proposed renovations had included upgraded floors and kitchen cupboards along with the construction of a sanitary block and had been scheduled to begin a few days ago.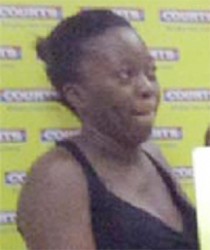 Cipriani noted that the new undertaking was a difficult one. "We're definitely looking to rebuild her home but we'll need to mobilise the funds," she said. "We may need to get a few more corporate donors on board. We're open to any contributions whatsoever to help Tamika get back on her feet," she emphasised.
When Stabroek News visited Miller on Tuesday, the recovering woman disclosed that the fire had been a major blow to her. Since the March 3 attack when she suffered 27 stabs at the hands of her now-deceased partner, the woman and her eight-year-old daughter Kayla had been staying with an aunt in Kitty.
At the time of the fire, Miler said she and her daughter were in Kitty. According to reports, around 2:15am there had been an explosion on a transformer, followed shortly after by the blaze. Miller explained that the wooden home had been around for decades and had therefore caught afire quickly. Nothing was recovered from the home.
"When I heard the news I couldn't believe it. I still can't catch myself," she explained. "I was excited about the renovations; there was going to be painting and a big farewell and everything. I been saying I woulda get to go home by Mothers' Day but I guess I can't now."
The woman has already visited the Guyana Power and Light Company (GPL) and has filled a claims form.
Miller is beseeching support from all available outlets. Since last month's brutal stabbing, she has been unable to work due to an injured left arm, she said. She is currently undergoing physical therapy and is expected to recover fully in three months' time.
Though she has received some help, she said that more would be greatly appreciated. "I feel good about the support I've gotten so far but I'd be glad to have some more cause it's a whole new house that got to build now," she pointed out.
She continued: "I just got to keep praying to God and ask for help because it coulda happen to anybody but why me? Something got to be in store for me."
Around the Web