-after drugs found in car at airport

A member of the Guyana Defence Force (GDF) Coast Guard was yesterday remanded to prison after being charged with possession of over four kilos of cocaine allegedly found in his car at the airport.
Zegga Phillips was found to be in possession of the substance on April 30, in the parking lot of the Cheddi Jagan International Airport, Timehri, the court of Chief Magistrate Priya Sewnarine-Beharry was told.
Phillips, 20, of 440 Kuru Kuru, pleaded not guilty to the charge that he had 4.342 kg of cocaine possession for the purpose of trafficking.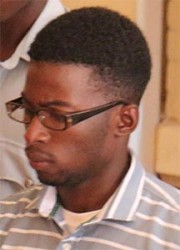 His lawyer, Patrice Henry, said Phillips was in fact hired by someone to go to the airport to pick up a passenger coming in on a flight. Henry said that when the two arrived at the airport, the customer exited the car, leaving his bag in the vehicle. Shortly after, a Customs Anti-Narcotics Unit (CANU) officer who identified himself to Phillips related to him the information he had received about a silver car in the parking lot that was suspected to have narcotics. According to Henry, Phillips then willingly allowed to officer to search the car. The officer discovered the black and blue bag in the back seat and opened it in front of Phillips, revealing the narcotics.
Henry said Phillips at this point asserted that he was unaware of the presence of this bag in his vehicle and offered to call the customer he was waiting on. This request was however refused and Phillips was placed under arrest.
Henry, in making his bail application, asked that these facts be considered and also asked that it be noted that Phillips was not attempting to board any flight at the time of his arrest.
Bail for Phillips was, however, refused in the light of details presented by Prosecutor Oswald Massiah. According to Massiah, Phillips, who is a member of the Coast Guard, is well known for using his private car for hire, which is an offence. He further stated that the car belonging to Phillips was parked in the CJIA parking lot and it was observed that no one else had entered or exited the car.
Massiah also said that when the CANU officer approached Phillips and asked him to search the car, Phillips responded by claiming he was a soldier and flashed a badge. Massiah said that in the black and blue bag were two plastic bags containing four "bricks" of cocaine. When the cocaine was discovered, Massiah said, Phillips then told the officer, "Buddy we could wuk something out." He was, however, subsequently arrested.
Massiah asked the court to note that flight BW526, a direct flight to the United States, was scheduled to take off around the same time as the discovery.
Phillips will appear at the Providence Magis-trate's Court on May 15.
Around the Web