At least nine persons were injured when the boat they were travelling in crashed into the river bank at Wolga, Essequibo River near Bartica early yesterday morning.
The boat, which was destined for Puruni, was expected to stop at Bartica to pick up another captain when it suddenly skidded and crashed into the western bank of Wolga, miles outside Bartica.
The jet boat was carrying 13 passengers, mostly miners. According to information received six Guyanese and three Brazilians were injured. Five of them were critical and were transferred to Georgetown Public Hospital, where they arrived around 11am. The others were treated at a hospital in Bartica.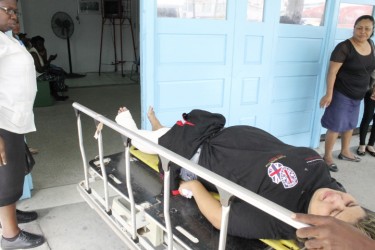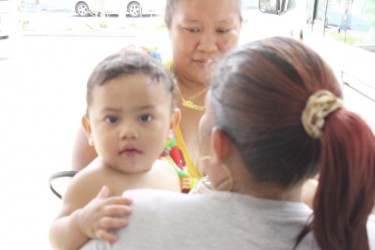 The five injured persons are: Devon Williams, 16, of Tuschen East Bank Essequibo, Claremont Williams, 49, of New Road, Vreed-en- Hoop, Sandra (only name given), Enrique, and ten-month-old Johnathan Bradley. Enrique, Sandra and Johnathan were later transferred to a private hospital. Enrique and Sandra are Brazilians.
Stabroek News was told that the vessel, Odessie, which is owned by the Barakat Speedboat Service, was expected to pick up a 'more experienced' captain who would have navigated it to Puruni. It was also related that the captain of the boat fell asleep and lost control of the vessel, causing it to crash.
According to information received, the jet boat left Parika around 4 am. Errol Williams said his brother Gary Williams who was travelling with Devon had promised to call his family when the vessel arrived in Bartica but they never received the call. "Someone called us and said that both of my brothers were injured in the accident," he said. Devon is nursing a broken right leg.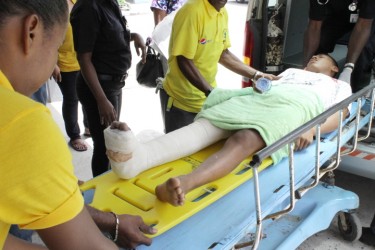 Claremont Williams' wife Noreen said her husband was having second thoughts about his trip since he was sick. "Me don't know what gon happen to him. His bone break clean off, it's just the skin holding the foot," she said, noting that Claremont sustained a leg injury.
She said he had told her his "mind tell him not to go" because he was not feeling too well but he still went.
Transport Minister Robeson Benn said that the Maritime Administration (MARAD was aware of the accident and was investigating it. He said a statement would be released shortly.
Around the Web