A 9-year-old girl born to Guyanese parents died tragically in New York on Sunday evening after a driver of a minivan, fleeing the scene of a minor accident, slammed into the vehicle she was travelling in.
Dead is Rebecca Ramnarine, daughter of Richard Ramnarine and Abiola McPhoy-Ramnarine, immigrants from Guyana.
According to the New York Daily News, Rebecca Ramnarine, a fourth-grader from St Albans, Queens, died at Brookdale University Hospital shortly after the 5 pm accident in Canarsie.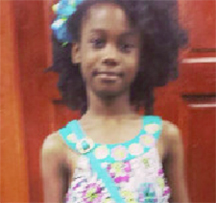 The newspaper said Rebecca was riding with a friend, Faith Cummings, 11, and her mother, Esther Cummings, 42 and they had just left services at Restoration Temple Assembly of God in Canarsie and were headed to dinner when the crash happened.
Kenneth Palache, a 62-year-old minivan driver was later arrested and charged with criminally negligent homicide, leaving the scene of an accident resulting in death and leaving the scene of an accident. He was also charged with driving with a suspended licence.
According to the NY Daily News, the incident began when the 62-year-old from Huntington was pulled over at Remsen Ave and Avenue L because his Honda Odyssey matched a description of an SUV involved in a nearby hit-and-run crash, police said.
As cops were talking to him he sped off, raced for two blocks and rammed into the back of a Hyundai Elantra at the intersection of Remsen Ave near Avenue N, police said. Rebecca was in the backseat of that car. A 2012 Toyota Sienna was also involved in the crash.
Rebecca's parents were in another car about 2 minutes behind.
"I saw the EMS try to take my daughter out of a mangled car. She was lifeless and had blood all over," the Daily News quoted Abiola Ramnarine, 38 as saying.
Meanwhile, the Cummingses and three other people who were in the Toyota Sienna were all taken to Brookdale, the Daily News said.
Around the Web