Shell V-Power customer Samantha Foster is now "living the dream of every motor-sport enthusiast" as she prepares to travel to the Ultimate VIP Ferrari Experience at the 2014 Formula 1 Shell Belgian Grand Prix set for August 22-24.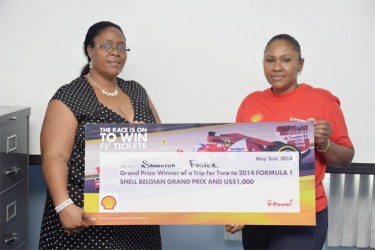 Foster emerged as the winner of the trip for two to Belgium, Grand Prix tickets and US$1,000 in spending money in the grand prize draw recently held at the Sol Guyana Inc. office, the licensed operator of Shell Service Stations in Guyana, a press release said.
Donna Hope, Sales and Marketing Manager of Sol Guyana gave the prize to Foster at the presentation ceremony held on Friday. Hope said Shell V-Power was a major part of Shell's longstanding technical partnership with Ferrari which started over 60 years ago. Shell continues to provide the Ferrari team with fuels and lubricants, essential to the operation of the Scuderia Ferrari F138.
"We encourage our customers to keep using Shell V-Power which features a unique double action formulation designed to actively clean your engine and reduce friction to help deliver more power throughout the life of your vehicle," Hope said.
Several customers also benefited from instant prizes of Ferrari watches and fuel vouchers of $5,000 for entrants receiving calls from 98.1 FM.
Around the Web