-could be in recovery for at least a year
After being severely injured in an accident on the East Bank Public Road just over two weeks ago, motorcyclist Jesse Gibbs is now an admitted patient at the Georgetown Public Hospital (GPH), where he is weighing options that will literally change his life, while awaiting justice.
Gibbs, 27, who is now incapacitated due to the loss of a bone in his leg because of the accident, said while he is now confined to a hospital bed, the driver responsible for his condition is still going about his business as a hire car driver facing no ramifications for his actions.
"The law is lawless," Gibbs told Stabroek News in relation to the response he has received from the police.
He claimed that it took the police one week and six days to visit the hospital and take his statement and he still has not received an update on the status of the investigation.
According to Gibbs, at about 1am on Sunday, April 20th, he was cycling down to town to attend a concert. "I was riding a bike and he was driving a car…. I see him coming and he blinked his light and I blinked back," Gibbs recounted, before adding that he then "geared his bike down" in an attempt to ascertain what the driver was attempting to do. He said that because he had the right of way, he only slowed down but did not stop because "the man was supposed to wait on me."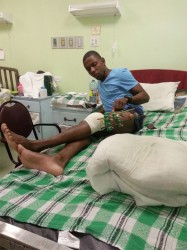 However, when attempting to cross at an intersection, Gibbs asserted that taxi driver, identified only as "Rudy," then attempted to make a last minute turn. It was at this point the front of Gibbs' bike smashed into the car, pitching the bike forward with Gibbs and pillion Marino Matthias. Gibbs skidded along the road with his bike sustaining several scrapes and bruises in addition to his mangled leg. Matthias, who was unseated in the collision, ended up underneath Rudy's car, left to the mercy of the taxi driver who kept revving his engine in an attempt to escape the scene.
Gibbs said that he remembered calling his sister and begging her to come to his aid. According to him, public-spirited citizens assisted him and his friend to the Diamond Diagnostics Centre in a private car.
He related that he was bleeding profusely and the medics at the center tried their best to stabilise him while they awaited transport to GPH. He recounted that he arrived at GPH in an ambulance about an hour later and has been there since.
Gibbs said that every day he spends in the hospital puts additional strain on his family. Gibbs is the father of two daughters, aged two months and three months, from different mothers. He lamented that of the two options he must choose from to continue his life neither is ideal. He explained that he can opt to allow the doctors to replace the bone in his foot with another bone from his body and allow it to extend, a process which will take a year. Or, he can choose to allow his foot to heal, resulting in the injured foot being ten inches shorter than the other.
Additionally, he said that his boss at Neal and Massy, where he worked as a custodian, informed him that if he cannot walk he does not have a job.
He said that in spite of all of this, his family must still buy his medications and pay for certain services the hospital cannot perform.
Gibbs related that the driver reached out to his sister claiming that he received the number from the police.
The man then called Gibbs offering a settlement of $200,000. Gibbs said that this amount is insubstantial given the hardships he has been forced to endure along with the possibility that he may be confined to bed for year.
Gibbs said that if a better offer is made he will take it, however, if it is insufficient he will take the case to court.
Around the Web