-was jailed in UK for drug trafficking
A mother of five, who was convicted and deported from England for narcotics trafficking, is back behind bars after being remanded to prison on a charge that she tried to traffick over 200 grammes of cocaine in salon products through the mail.
Sandra Daniels, 49, of Lot 2 Dennis Street, Sophia, was unrepresented when she made an appearance before Magistrate Judy Latchman of the Georgetown Magistrates' Courts. It is alleged that she, on May 8, at the Guyana Post Office Corporation (GPOC), on Robb Street, had in her possession 274 grammes of cocaine for the purpose of trafficking. She pleaded not guilty to the charge.
According to Customs Anti-Narcotics Unit (CANU) Prosecutor Oswald Massiah, Daniels had gone to the post office with the intention of shipping a box to Spain. A perfunctory check was performed on the box and found that it contained a number of salon products, including false nails and nail files. A closer inspection was performed and revealed 42 nail files with plastic bags concealed within the middle of each. The plastic bags, Massiah said, contained what was suspected to be cocaine.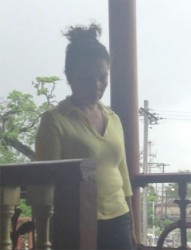 The woman was cautioned and told of the suspicion. According to the woman, a friend from Spain who had visited Guyana two weeks ago, had asked her to post the box.
She was told of the offence, arrested and taken to the CANU headquarters where the substance was tested and weighed in her presence.
When questioned by Magistrate Latchman, Daniels claimed that she was a receptionist at Banks DIH Limited and had no pending matters or previous convictions. In her defence, Daniels maintained that she had no knowledge of the illicit substance contained within the products because it could not be seen with the visible eye.
However, Massiah said, the woman's denial of any previous matters did not take external jurisdiction into consideration. According to the prosecutor, investigators had learned through interrogation that Daniels had once lived in England and had been sentenced to seven years imprisonment.
When questioned once more by the magistrate, Daniels admitted that she had indeed been convicted in England and subsequently deported from the country after spending 33 months in prison.
Massiah also stated that the woman's claim of being employed at Banks DIH is yet to be verified as she had previously claimed that she was a housewife.
The prosecutor objected to the woman's bail based on the circumstances and requested a date for report and fixtures.
Daniels was remanded to prison until June 2, when the case will be called for reports.
Around the Web