Army Chief of Staff Brigadier Mark Phillips and US Ambassador Brent Hardt discussed the strengthening of security co-operation and partnership between the Guyana Defence Force and the US Military, when he received the diplomat during a courtesy call late last month.
According to a press release from the GDF, the reception team at the April 29 meeting also included Colonel Administration and Quartering Captain (Coast Guard) John Flores, Staff Officer One General Three, Lieutenant Colonel Cargill Kyte and Lieuten-ant Colonel Nazrul Hussain who held a series of discussions with the US envoy and US Military Liaison Officer, Lieutenant Commander Robert Novotny.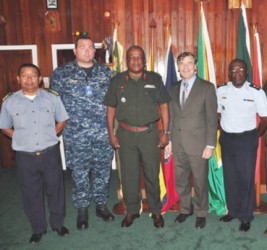 The chief of staff and the US diplomat spoke about capacity building, the US's support in the recently-concluded Metal Shark Training, Special Forces Training and the assistance facilitated through the International Military Education Training Programme (IMET). A proposal was made for more training opportunities for GDF personnel at the operational and tactical levels for the Coast Guard and land forces.
According to the statement, the meeting also noted the success of the State Partnership Programme between the GDF and the Florida National Guard. This partnership saw GDF ranks trained in Disaster Management by the US in Miami and Guyana as well as cadets from the FNG engaging in their Cultural Understanding and Langu-age Proficiency Pro-gramme (CULP) 'Destina-tion Guyana' in 2013. "This was deemed a highly successful model programme and another batch of cadets is scheduled to return to Guyana, this year," the army said.
The US military has indicated an interest in undergoing jungle training in Guyana, the army said, adding that the chief of staff has informed that the training facilities at the Jungle and Amphibious Training School (JATS) at Makouria are available.
Around the Web