– warns of possible cover-up
The Guyana Human Rights Association (GHRA) yesterday condemned the police force's failure to charge officers responsible for the shooting of 15-year-old Alex Griffith, calling it "a major set-back" for those hoping the new leadership of the organisation would take a firmer stand against rogue law enforcers.
In a statement on the shooting yesterday, the GHRA called on the Director of Public Prose-cutions (DPP) Shalimar Ali-Hack to exercise her authority to ensure that appropriate criminal charges are promptly laid.
Griffith was shot in the mouth on April 30 by a cadet officer after he and other members of the force took the boy from his home for questioning about a robbery. The boy has alleged that the officer shot him while playing Russian roulette with him.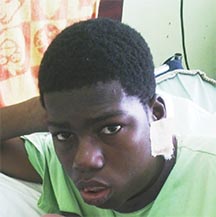 Noting the failure by the force to lay charges both criminally and departmentally against all of the officers involved in "the illegal detention, torture and shooting" of Griffith, the GHRA statement said that the message being sent to the public is "that protecting the criminals in their midst is a higher priority than protection of the public."
It noted that the circumstances of the case as reported in the media have not been challenged by the force and it suggested that the delay in pressing charges is driven purely by an unwillingness to face up to the presence of rogue elements among the force's cadet and other officers and not rooted in complex investigation.
"Had charges been laid promptly against all involved, the new leadership of the GPF would have emerged with considerable credibility. What they have in fact achieved is to undermine, at a stroke, their own efforts to create good will in communities, exposing, for example, the initial campaign in Albouystown to be little more than a PR job," it said.
The human rights group added that it would appear that the police do not intend to pursue the matter criminally, saying that "all the signs are evident that a cover-up has been set in train" in the light of the fact that the main culprit has been released from close arrest on the excuse that the police know where to find him.
"The failure of the new force leadership to recognise the consequences for recruitment of protecting officers with psychopathic tendencies is astonishing, to say nothing of the decent ones who must now be re-assessing their future in the force," it added.
According to the GHRA, moving from the "politically-riddled, incompetent and corrupt approach to policing" to an "efficient, community-responsive form of democratic policing" will take sustained commitment. Unfortunately, it said, the handling of the Alex Griffith case shows that the new leadership of the force is not yet ready to make that commitment.
Around the Web