Pledges of support have poured in for eight-year-old, Javier Anderson's physiotherapy and the prosthetic leg he will need having lost his right leg to bone cancer and his family yesterday expressed gratitude.
The boy's mother, Lizanna Anderson, told Stabroek News that many private individuals have reached out and pledged support along with Kanhai's Guyana Electrical Agency. Anderson said she was humbled that various persons and agencies were touched by her son's story.
She said that Kanhai's Guyana Electrical Agency and the Lions Club have both signalled that they would be willing to provide financial support.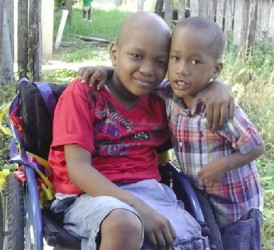 Speaking to Stabroek News, proprietor Kamal Kanhai said his wife was moved by the eight-year old's story so they reached out to the family to make a contribution.
Anderson told Stabroek News that various Lions Clubs have contacted her and will be consulting on how to further assist Javier in receiving the prosthetic limb.
Javier Anderson was diagnosed with cancer and had his left leg amputated just five months later. The little swimmer and cricketer's only wish for his birthday next month is for someone to give him a prosthetic leg so he can be active again.
Speaking to Stabroek News over the weekend the youngster expressed his desire to swim. "…I want to be back in the water and be able to swim again and play cricket …and you know I will. I just know I will. All I need is a leg," he said in an interview.
He remains optimistic that he will re-learn all of his favourite activities through the love and support of his mother. He recalled that he would cry while watching his mother suffer abuse at the hands of his father. The child stated that when his mother made the decision to leave his father he was very proud.
Javier was diagnosed with Osteosarcoma, an aggressive bone cancer found predominantly in children and had to have his leg amputated. He is currently undergoing chemotherapy.
The Andersons can be contacted at Lot J4, 936 Jackson Street, Tucville or on telephone numbers 223-1068 (Home) or 602-7631 (Mobile).
Around the Web