– abandoned gov't building also gutted

A differently abled Corentyne woman is now homeless after a fire gutted her home on Wednesday, while an abandoned government building, also on the Corentyne, was completely destroyed on Thursday.
The woman, Chanderai Rajnauth, 57, of Cromarty village lost her two-storey wooden house in a fire which started on Wednesday around 12.30 am.
A neighbour, Latchmie Ashadat, said she was asleep when the fire started, but was awakened by the heat from the blaze. She looked out her window and saw the house next door on fire and not long after neighbours raised an alarm, informing the fire service and starting a bucket brigade.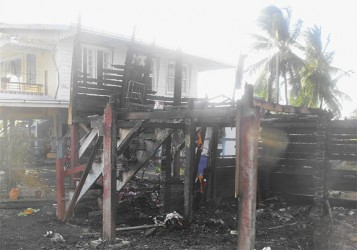 They concentrated on Ashadat's home as the Rajnauth's home was already consumed. As they were doing this, the fire service arrived and put out the fire.
The residents opined that if the fire service was closer the home of the speech impaired woman would have been saved.
Rajnauth lived alone and the house was the one she grew up in. At the time of the fire, she was spending the evening with a neighbour who recently returned from abroad.
Suspicions were raised when after the fire, the padlock Rajnauth had used to secure her home was found opened. In addition, a pair of jeans which the woman said had money in the pocket was found but the cash was missing. However, 'B' Division Fire Chief Compton Sparman said the fire was the result of, possibly a lamp that had been lit and left in the home. Sparman said investigations pointed to that being the case.
Rajnauth has been rescued by villagers, but is seeking assistance. An account—C901836—has been opened at the New Building Society for Rajnauth and persons wishing to help can make deposits there or call 615762.
Meanwhile, an unused government building at Hogstye/Adventure, Corentyne, which was being occupied by a vagrant, was gutted on Thursday evening.
The building had been abandoned for over a decade.
Sparman told Stabroek News that when they received the call, they alerted Rose Hall Town fire service which requested assistance from GuySuCo fire service. When fire fighters arrived the building was completely engulfed. Measures were taken to save a fuel station next door which was threatened.
According to Sparman, the fire was started by the vagrant, who would normally light fires and cook inside the building.
It was also stated that persons passing by saw the fire and raised an alarm. A few residents also formed a bucket brigade and tried to put out the fire.
Around the Web