A Bee Hive, East Coast Demerara man died on the spot yesterday after he was struck down by a speeding car driven by an off-duty traffic policeman, on the Public Road at Bee Hive.
Chanderpaul Sookdai, 63, was riding to work around 6.30 am when he was hit by the vehicle. One eyewitness said his body was flung into the air before landing at the side of the road. The man said Sookdai's body was left lying on the road for a few minutes before someone called for assistance to transport him to a hospital. However, he was already dead.
"Everything was broken. All his neck, back, and foot de twist up," the man said.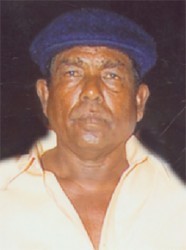 According to the police, the rank was placed under close arrest to assist with the investigations. The rank was driving a private car at the time of the accident.
When Stabroek News visited his home yesterday a large crowd had gathered at the house, consoling his family.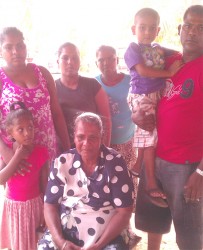 His wife, Anita, 59, said he had left home around 6 am for work. "He tell me stay home don't go nowhere that he gon come and pick me up and we gon go plant in the backdam," she said, crying. "We were married for 45 years and we lived good. He was a good man and a good father," she said.
She said she was having breakfast when her nephew went to her house and told her about the accident. "He tell me that he get in accident but when he come back the second time he tell me he dead," she said.
She said the traffic policeman told them that he could not have prevented the accident but gave no explanation.
Meanwhile Sookdai's children expressed anger that he was struck down by a traffic policeman. "He left to go work to mind her. We want justice for our father. Me father ain't sick and dead. He killed my father. He teaching people the law and then speeding. My dad ain't stupid to go and ride in front of the middle of the road where he gon get knock down," his daughter said.
Around the Web