-after days of unusual behaviour

A 42-year-old Craig, East Bank Demerara woman was yesterday morning found dead in a drain in her village after exhibiting strange behaviour for over three days.
The mother of five, Marcel Cummings, know by all as Marcie, was found by her nephew lying outstretched in the drain around 6 am yesterday and the family believes that the woman knew that she was going to die.
No marks of violence were found on the body, her family says.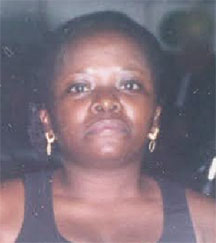 "She wrote everything down in a book and say we would find her in a drainer (drain) with her hands outstretched when she dies and that was how she was found. It's a manifestation she knew…is like she had a religious demon on her because she was praying, praying, praying all the time," her brother, Ivor Cummings told Stabroek News.
Stabroek News saw the two exercise books, which the woman used as journals during her three days of strange behaviour to document her feelings. It relates experiences both at work and home, her relationship with the last two men in her life and a series of dreams. The journal tells of hardships she had been through and her harsh self-judgment of being a partner in an extra- marital relationship while she was a Christian. It states too that her last partner "Andrew" left her to go and live permanently in the United States about one month ago.
While the journal has stories of the dead and of death, this newspaper did not see any concretized prediction or description of Marcel saying how she would die.
Ivor Cummings, who lived in the bottom flat of the Craig house said that his sister's incessant praying began three days ago. This saw pastors from two churches coming to visit the home and telling the family that the woman could pray and they let her anoint herself with olive oil before leaving. This did not stop her invocations and on Saturday he had to be called to her place of work as his sister had begun loud prayer for staff there.
"They called and told me to come collect her, she was praying for everyone and begging everyone to pray for her …when I got there she didn't want to come. She told me 'My brother, you take me home I will die' and began praying that whatever was on her leave her alone," he said.
On Saturday evening, a sister came to stay at the house but Marcel Cummings woke around five am praying yet again and went down to her brother's home telling him they would attend church, the Brethren Church, later in the morning.
He said no one saw when she left the yard and about one hour later after they noticed she was not home they started a search. She was found dead in a drain about five minutes away from her home.
A resident said he saw the woman sometime after 5 am sitting in the drain flapping her hands and speaking in a strange language and he became scared thinking that   "she trip out" so he ran back into his house and stayed there. He did not know she had died until raised voices caused him to once again peer outside.
Police were called and the body was collected by the Lyken Funeral Home.
An autopsy will be performed tomorrow.
Around the Web