Chief Executive Officer of the Guyana Power and Light (GPL) Bharat Dindyal said yesterday that the company is working with its legal advisers to determine whether it is liable in the case of 10-year-old Satyanand Balkaran, who was electrocuted earlier this month.
Speaking with Stabroek News, Dindyal said the company along with its legal advisers are putting together all the needed information "If they think we are liable to the family, they will then determine the degree of liability," Dindyal said.
He added that the company's legal advisers will also suggest compensation if need be and will then contact the family of the deceased boy.
In relation to the validity of the electricity connection that led to the child's electrocution at Goed Fortuin,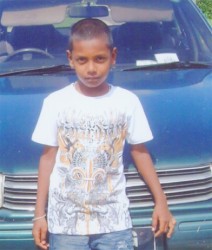 West Bank Demerara, Dindyal said he does not wish to offer a further statement on the matter. Dindyal had previously told this newspaper that he believed the wire was an illegal connection.
Meanwhile, Chand Balkaran, the grandmother of the boy said that whether the family would accept a compensation or not, would depend on the size or the type of compensation.
She added that they are disappointed since GPL has not contacted the family since the incident.
"We didn't get a letter, a lil sympathy, nothing. All them keep saying is that the wire was an illegal connection," Balkaran said.
She reiterated that the family had nothing to do with the connection. The woman said she had contacted her neighbours whose house the wire was connected to and asked to see an electricity bill, but the neighbours have provided one so far.
She added that GPL has since removed the wire.
Around the Web