The Caribbean Financial Action Task Force (CFATF) has urged countries in the region to step up countermeasures to protect themselves from financial risks emanating from Guyana as a result of the country's failure to rectify deficiencies in its anti-money laundering legislation.
The announcement, including the country's referral to the international Financial Action Task Force (FATF), was made yesterday in a statement released after CFATF's XXXIX Plenary in Miami, Florida, and both the government and opposition continued to trade blame for the situation.
Finance Minister Ashni Singh yesterday said that CFATF's decision is a direct result of the opposition's refusal to cooperate towards passing the anti-laundering amendment bill, which has been stuck before a parliamentary committee. The opposition has outlined conditions for the passage of the bill but the Donald Ramotar government has refused to entertain them.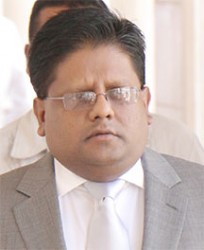 CFATF said Guyana has been listed among jurisdictions with Anti-Money Laundering/ Countering the Financing of Terrorism (AML/CFT) deficiencies that have not made sufficient progress in addressing the deficiencies or have not complied with the Action Plan developed with the CFATF to address these deficiencies. Pursuant to these findings, CFATF called on its member countries to "implement further counter-measures to protect their financial systems from the ongoing money laundering and terrorist financing risks emanating from Guyana."
Upon hearing of CFATF's decision yesterday, APNU leader David Granger said he regretted that the decision was taken, but maintained that the coalition was not to blame. Granger asserted that APNU did all that was needed to secure the passage of the bill, and laid blame at the feet of government.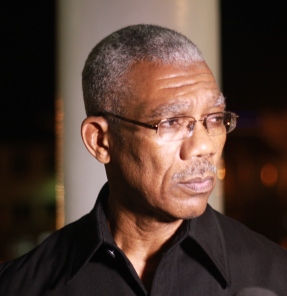 AFC, meanwhile, reiterated that it would support the passing of the bill if government fast-tracked the setting up the Public Procurement Commission. AFC Executive Member Dominic Gaskin told reporters during a party press conference that the Public Accounts Commit-tee (PAC) could move swiftly to appoint the five members of the PPC, after which the National Assembly would approve the appointees by a two-thirds vote. Afterwards, he continued, the President would appoint the members as commissioners of the PPC, and the AFC would lend its support to the passing of the amendment bill during a specially convened sitting. The party suggested that the entire process would take 72 hours.
 Countermeasures
The "countermeasures," CFATF explained, can include "the requirement of enhanced due diligence measures; introducing enhanced reporting mechanisms or systematic reporting of financial transactions; refusing the establishment of subsidiaries or branches or representative offices in the country concerned; or otherwise taking into account the fact that the relevant financial institution is from a country that does not have adequate AML/CFT systems and limiting the business relationships or financial transactions with the identified country or persons in that country."
FATF is considered more stringent in its assessment of jurisdictions, and the counter-measures it urges its members to take against countries found insufficiently compliant are grave. Currently, Iran and the Democratic People's Republic of Korea (DPRK) are listed as jurisdictions whose non-compliance with international financial regulations pose "serious" risks to other jurisdictions.
FATF has therefore called on its members to "apply counter-measures to protect the international financial system from the ongoing and substantial money laundering and terrorist financing (ML/TF) risks emanating from the jurisdictions."
According to FATF's website, these measures can include: "Considering to restrict or even terminate business relations or transactions with these countries; Operating very prudently in trusting third parties in these countries in relation to customer due diligence assessments; Operating very prudently in initiating or extending services and activities in these countries, for example, when establishing subsidiaries or representatives of institutions in those countries and demanding approval for this from persons within the organization who are authorized to do so; or monitoring correspondent banking relations in these countries and terminating them, if necessary."
FATF may however, find that some jurisdictions have not made sufficient progress in addressing their AML/CFT deficiencies, and call on member countries to "consider the risks arising from the deficiencies associated with each jurisdiction…" Territories which fall into this category include Algeria, Ethiopia, Pakistan and Syria, among others.
This is the second time in the space of five months that Guyana has been essentially blacklisted by CFATF. After missing a May deadline last year, CFATF found Guyana insufficiently compliant with recommended regulations, but gave the country until last November to get the AML/CFT (Amendment) Bill passed.
The National Assembly, however, was not able to find common ground on the terms required to get the bill passed. The deadline passed, again, and CFATF called on its members to consider measures to insulate themselves from any money laundering or financing of terrorism which might be going on in the country. A team led by Chairperson of the CFATF Allyson Maynard-Gibson visited Guyana last month but its warnings about the fallout from the non-passage of the legislation failed to move either the government or opposition.
 'People are moving their money out'
Chairman of the Private Sector Commission (PSC) Ramesh Persaud said the PSC was disappointed that policymakers were unable to get the bill passed. He also pointed out that investors are in fear of the sanctions which are likely to follow the decision.
Though CFATF has deemed Guyana insufficiently compliant and therefore a threat to the international financial system, it will be left to the regulator's member-states to implement specific countermeasures.
Persaud told this newspaper that investor uncertainty has been higher than usual in the months leading up to yesterday's statement, which, in turn, has affected investment in Guyana. He said that investors and potential investors are aware that Guyana's failure to get the bill passed will attract sanctions, although they are not aware of what the specific sanctions will be.
This kind of speculation, he believes, has diminished investor confidence, and investment by extension. The tell-tale signs of this reality, he said, are reflected in statistics recently published by the Bank of Guyana.
According to the BoG's 'Banking System Statistical Abstract,' its total deposits for residents and non-residents stood at $340 billion as at December 2013. By January 2014 though, the figure dropped to $332.6 billion, and by the end of last month, the figure fell again to $328.1 billion. Meanwhile, total residents' deposits as at December 2013 stood at $330.2 billion, but fell to $318 billion by the end of last month.
Persaud believes that these figures are indicators that "people are moving their money out."
Ramesh Dookhoo, Chairman of the PSC's Training and Investment Committee, says he believes the negative implications currently being felt by local companies are likely to intensify. During an interview with Stabroek News yesterday, he said that companies have already been complaining about increased due diligence to carry out simple and more complex transactions.
Many firms, he explained, are now required to provide added documentation when transacting business with their partners overseas. As a result its takes local companies a longer period of time to gather and send the necessary documents, and the overseas partners are taking longer periods of time to scrutinise said documents.
Longer transaction periods affect the efficiency of business arrangements and even cut into profits, Dookhoo explained. This reality is particularly frustrating for exporters, whose efficiency depends on their ability to ship their goods to customers with minimal to no delays. He further stated that international banks now require a sea of documentation before transactions are processed, and lamented that this slows up trade, and costs exporters money.
With regard to Guyana's garment industry, whose margins are already thin, Dookhoo said that many have been asked to make personal efforts to increase their due diligence, in light of the National Assembly's failure to agree on an acceptable national legislation. He said that such measures will cost money, thereby further reducing the industry's profit margins.
"Things are getting harder and harder and I believe it will get worse, these are dark days in Guyana," he said.
Around the Web