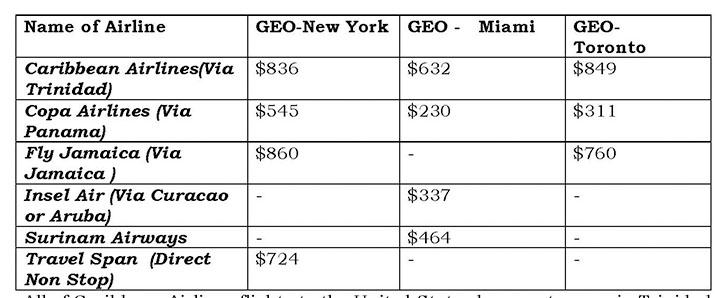 The summer peak travelling period started yesterday with competition heating up among major airlines that fly between Guyana and North American destinations.
Aggressive competition appears to be pushing down the airfares from Guyana to various North American destinations, with new carriers hoping to cash in on the lucrative market with fares lower than those being offered by the four existing airlines.
Newcomers, Copa Airlines and Insel Air, hope that Guyanese will not only consider it greater value for their flying dollars but will savour the new in-transit routes. Copa Airlines flies direct to Panama with connections to New York, Miami and Toronto while Insel Air goes to Miami via Aruba/Curacao.
They are coming up against Caribbean Airlines, Suriname Airways, Travel Span and Fly Jamaica.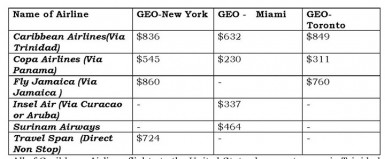 With the emergence of the two new carriers, Copa Airlines and Insel Air, which will be flying to the United States and Canada travellers now have six carriers to choose from and depending on their travelling preferences still have a chance to find fares averaging around US$500 return.
Stabroek News spoke with the representatives of the airlines, local travel agents and compared online rates to determine what is offered and what the travelling public would pay during this summer peak season.
"Basically in the airline business there are peak and off peak travelling season … peak for summer is mid Junes to about the first week in September," one travel agent explained .
The average fares for economy class return flights, as at May 30, are shown on the table below.
All of Caribbean Airlines flights to the United States have a stopover in Trinidad before proceeding to respective destinations.
Likewise Fly Jamaica transits through Jamaica, Copa Airlines though Panama and Insel Air through Curacao or Aruba before they proceed to North America.
Travel Span is the only airline that offers a nonstop flight to New York's John F Kennedy Airport.
Travel agents said ticket prices will vary and travellers would note that one person would get a low fare one day and later in the afternoon of the same day that ticket would go up by as much as US$200.
One travel agent stressed that cost is determined by travelling preferences. "It depends on how much time for travel one has… Some airlines fly only on certain days and times and then a person might want to go direct to their destination, some don't mind a stopover and then with that stop over some persons can spare one hour some ten ,so there are variables to cost," she said.
In addition she said that while buying tickets early mitigates some cost factors it does not do so entirely but saves travellers the worry of last minute rushing. "Some persons purchase their tickets months in advance and while that helps in saving in a bit they might still be able to get that same cost the day before but it's all in marketing strategy and individual planning schedules …," she asserted.
Another agent pointed out some persons might argue that Guyana does not have seasons however North America does and thus the bookings are made as such. "On a technicality Guyana does not have summer but because the destinations are to countries that have seasons of the year we also have to work with that," he stated.
All of the airlines' baggage allowances are two checked pieces which averages to about 50lbs each and a hand piece averaging 16lbs.
Travellers also have a choice of adding additional luggage at individual airline price tags.
Around the Web